Baby Shower Menu
Planning your baby shower menu for your nursery rhyme themed baby shower can be a lot of fun.

Think about the rhymes you have chosen, the characters or the actions that are happening in the rhyme.
This will help you come up with fun ideas for menu items based on your shower theme.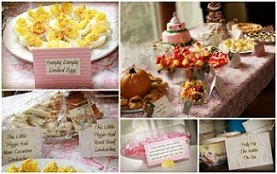 Be creative!
Use these ideas as the inspiration for your baby shower menu.
The ideas are nearly limitless to what amazing recipes you can bring to the party.
To make your shower even more entertaining, try these ideas for a fun way to share with your guests your creative cuisine.
You can make the menu one of your party games for your guests to enjoy (not only as a guessing game, but a delicious tasty game too!).
Create a game where they have to guess the nursery rhyme that inspired the special dish. Place little notecards with numbers in front of each dish and have them fill in the blanks on a corresponding answer sheet.
Or you can create special little name cards identifying the recipe name that sits in front of each delicious dish.
Your recipe name can be hand written on a 3 x 5 colored index card that you fold in half and set in front of your special dish.
Or print the recipe name along with a graphic from the nursery rhyme and place in front of each of your rhyming recipes!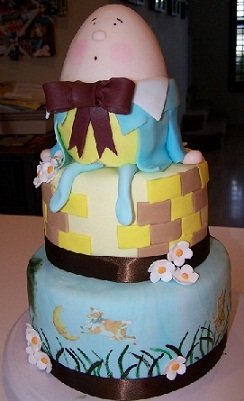 Your baby shower menu allows the food table to easily become the central nursery rhyme theme party decoration.
With your cake as the centerpiece, you can have a deliciously fun buffet or food table for your guests.

Shower cakes can be as simple as a sheet cake with the nursery rhyme verse written on the top, or as fancy as a multi tiered character cake.

Find below some ideas on some fun, delightful ideas for nursery rhyme dishes that you can use for your baby shower.

Polly Put The Kettle On

Tea
Peter Piper Pickled Peppers
Mary Quite Contrary Garden Veggie Soup
Punch and Judy Party Punch
Twinkle, Twinkle Little Star Finger Sandwiches
Old Mother Hubbard Dog Bones 
See how easy it is to take an everyday menu item and turn it into something a bit more special and fun!
What delicious nursery rhyme menu items do you have?
We know there are fabulously creative cooks out there who can whip up a delightful nursery rhyme dish! We'd love to hear about your menu and recipe ideas, so please share with all of us. Everyone would love to have a great menu for a their successful baby shower.
What Other Visitors Have Said
Click below to see contributions from other visitors to this page...

Three Blind Mice Cheese Platter Not rated yet
This is a delightful cheese tray that you can add all sorts of different cheeses to. Just make a cheese platter with different cheeses. You can also …
Nursery Rhyme Baby Shower Invitations - set the theme of your shower with delightful invitations!
Nursery Rhyme Baby Shower Decorations - turn your home into a nursery rhyme!
Nursery Rhyme Baby Shower Games - great ideas for nursery rhyme activities for your guests!
Nursery Rhyme Baby Shower Favors - rhyme ideas that your guests will remember!
Nursery Rhyme Baby Gifts - wonderful themed baby presents!
Diaper Cakes - delightful baby shower centerpiece and gift all in one!