Three Little Pigs In A Blanket


The three little pigs needed more than a toasty blanket to keep them safe and sound.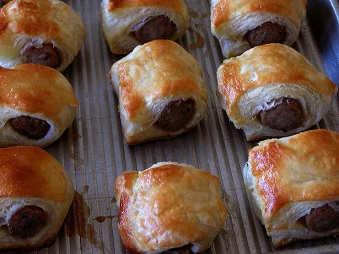 But these little blankets warm up a tasty nibble for your guests.
Ingredients:   
2-(6oz) cans refrigerated crescent rolls

1-(6oz) block of cheddar cheese

1-(16oz) package of cocktail franks
1/2 cup warm barbecue sauce
Directions:   
Preheat oven to 375 F degrees

Unroll the crescent rolls, do not separate), and cut into 32 (1inch wide strips.

Cut block of cheese lengthwise to make 2 rectangular blocks.

Slice each block into 16 slices.

Place one cocktail frank and 1 cheese slice on each dough strip.

Roll up each one tightly, pinching seams to seal.

Place roll ups on an aluminum foil lined baking sheet.

Bake for 12 to 15 minutes or until golden brown.

Serve immediately with the warmed barbecue sauce.
What delicious nursery rhyme menu items do you have?
We know there are fabulously creative cooks out there who can whip up a delightful nursery rhyme dish! We'd love to hear about your menu and recipe ideas, so please share with all of us. Everyone would love to have a great menu for a their successful baby shower.
Return to Baby Shower Menu from Three Little Pigs in a Blanket