Baby Shower Invitations
Once you have determined what nursery rhymes you will use for your baby shower theme, it's time to start preparing your baby shower invitations.
Invitations can be purchased on line such as, Grandma's shower invitations or at your local card or baby store.
You can also  have fun designing and creating your own nursery rhyme themed invitations.
Office supply stores carry a great selection of card stock that you can purchase to print your own invitations.
While you're at the store, pick up some extra card stock so you can also create matching Thank You cards for that special mother-to-be.
She'll be delighted that you took the time to prepare for her beautiful note cards that she can use after the shower.
Once you have your cardstock, you can download all sorts of great graphics from the internet that fit with your theme.
These graphics can then be printed on your invitations and thank you cards.
One way to make your baby shower invitations more personal is to incorporate your selected nursery rhyme verse into the details of the party.
Let's say you chose High Diddle Diddle for your main theme, the inside of your invitation could say something like:
High diddle diddle,
The cat and the fiddle,
Mary's baby shower will be soon,
We'll meet at my house,
To meet with great friends,
101 East Main St at Noon.
I'm no poet, but you get the idea.
Or check out Grandma's own Hey Diddle Diddle shower invitation that you can order yourself.  I even have the matching thank you notes!
Another idea you may want to consider to engage your guests in your nursery rhyme theme is to have them bring gifts related to the theme.
This could be accomplished a couple of ways.
In the invitation you can ask them to bring a gift inspired by their favorite Mother Goose nursery rhyme.
Or you can assign each guest a nursery rhyme to use as their inspiration for their gift.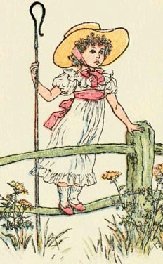 For instance, Mary Had a Little Lamb could inspire someone to bring a sheepskin rug for the nursery, or stuffed lambs for the crib.
Three Little Kittens could have them bringing mittens with matching hat, toy kittens, printed sheets with kittens or a blanket with embroidered cats.
For an over the top shower, ask your guests to come dressed as one of their favorite nursery rhyme characters.
Imagine the fun that would be to have Little Bo Peep, Mary Quite Contrary, the Queen of Hearts and a whole entourage of adorable animals show up for the party.
Nursery Rhyme Baby Shower Decorations - carry your nursery rhyme theme throughout your home!
Nursery Rhyme Baby Shower Menu - ideas for all sorts of nursery rhyme edibles!
Nursery Rhyme Baby Shower Games - ideas for nursery rhyme activities for lots of fun!
Nursery Rhyme Baby Shower Favors - favors to make your party memorable for your guests!
Nursery Rhyme Baby Gifts - great ways to share Mother Goose!
Diaper Cakes - great baby shower centerpiece and gift all in one!
Tell us about your nursery rhyme baby shower!
We know our guests have great imaginations! We'd love to hear about the theme you chose and how you set the mood for your guests and mother to be.

Please share with all of us your creative ideas for a wonderful baby shower!