Nursery Rhyme Themed Baby Shower Brings Back Memories
A nursery rhyme themed baby shower is a fun way to use those great children's rhymes that everyone knows for a memorable party.

I did exactly that with the baby shower I had for the our soon to be granddaughter.
I found that nursery rhymes are a great source of baby shower ideas.  Those silly little verses can be the theme for everything from invitations to menu items.
For your baby shower invitations, decorations, menus, cakes, games, party favors, and thank you notes, you can choose a variety of nursery rhymes to incorporate into your party theme.
So to start your preparations, think about which of the hundreds of nursery rhymes are your favorites. Then use one or all of them as the base of your nursery rhyme baby shower theme.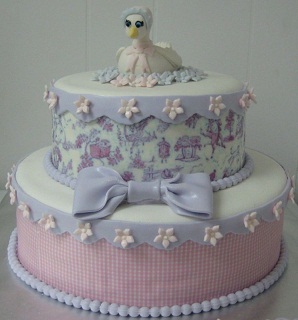 Nursery Rhyme Themed Characters
It's easy to choose characters from your list of favorite rhymes to build your theme around.

For instance, Humpty Dumpty, Mary Had a Little Lamb or perhaps Mother Goose herself are characters we all remember that will spark a smile from your guests.
Using Mother Goose as your central figure makes it easy to build an assorted cast of characters around her.
Another great choice is to use the various characters from High Diddle Diddle, since there are so many characters in the poem.
Once you have settled on your characters you can start designing your nursery rhyme theme.
Invitations are easy to make yourself using a computer, card stock and a printer.
Download graphics of your theme characters and use them to create one of a kind invitations.
You can even create matching thank you notes for the mother to be to thank her guests for the wonderful baby gifts.
Decorating for the nursery rhyme baby shower can incorporate items such as a homemade nursery rhyme banner, name cards for the guests, and party favor centerpieces.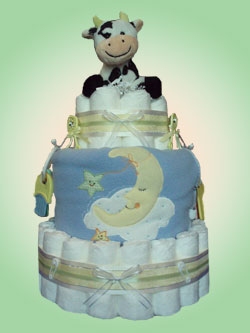 Nursery Rhyme Themed Centerpieces
One of the best centerpieces is a nursery rhyme themed diaper cake.
Filled with diapers and other assorted must haves for the new baby, the diaper cake is a great centerpiece for your gift table.
Then use your homemade or bakery made nursery rhyme character cake for the dining table centerpiece.
Nursery Rhyme Themed Food and Fun
Even your menu can be based on nursery rhymes.
Many rhymes have food items in them, such as puddings, pies, muffins, apples, plums and pumpkins.
All these lend themselves easily to create a whimsical menu for your guests.
What baby shower would be complete without some fun and games? 

We used a couple of nursery rhyme riddles and questions for our daughter's baby shower.
It was a lot of fun hearing the guests trying to recite nursery rhymes to get to the answers. Interesting how those great little rhymes are remembered after one grows up.
There are all sort of games from riddles to scavenger hunts that easily fit into your nursery rhyme baby shower.
A nursery rhyme baby shower can be a whole lot of fun!
They bring back memories of raising your own little one and helps introduce the new mom to these great rhymes.
Everyone grew up with nursery rhymes in their young lives.  So have fun with a bit of nostalgia by creating a nursery rhyme themed baby shower everyone will remember.

Baby Shower Invitations - Some fun ideas to make personalized baby shower invitations!
Baby Shower Decorations - Check this out for lots of creative ideas to set the mood for your baby shower!
Baby Shower Menu - It's easy to create special nursery rhyme dishes for your guests to enjoy!
Baby Shower Favors - Great ways to create memorable gifts for your guests!
Baby Shower Games & Activities - Getting your shower guests involved and enjoying each other is as easy as games and activities!
Baby Gifts - Great ideas for nursery rhyme baby gifts and gift baskets!
Diaper Cakes - Great gift that doubles as baby shower decor!
Looking for a beautiful and unique baby gift?
Stop looking and check out our gorgeous one of a kind handmade baby quilts!  These beautiful rag quilts are made from carefully hand selected fabrics and prints to create a baby quilt like no other.  
Simply click on Quilted Rhymes gift store.
Receive a FREE beautiful 8" x 10" glossy print of the poem the quilt is designed after that you can frame to accompany your quilt gift.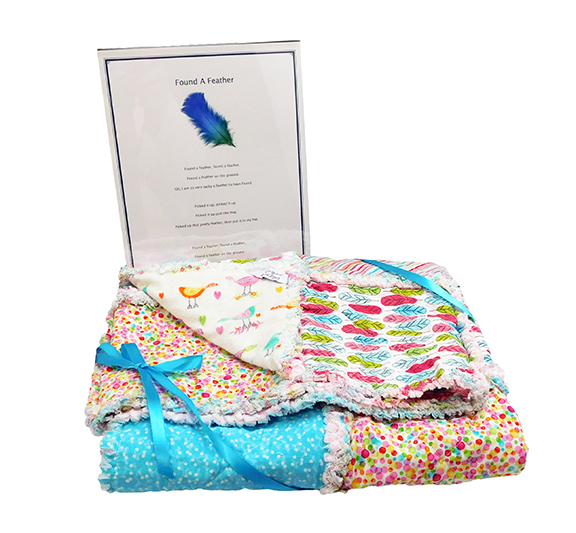 Tell us about your nursery rhyme baby shower!
We know our guests have great imaginations! We'd love to hear about the theme you chose and how you set the mood for your guests and mother to be.

Please share with all of us your creative ideas for a wonderful baby shower!