Hand & Fingerplay Activities
Hand & finger play activities for nursery rhymes not only make the rhymes more fun for your special little one, but helps them with lots of development.
These activities generally have plenty clapping or other hand gestures that go along with each word or line of the verses.
These activities are simple for children to learn. It's best to repeat the activities often, encouraging your little one to mimic your motions.
Here's some of the many ways hand & fingerplay activities benefit your child:
Helps little ones to understand the rhythm of speech and music
Helps to build their vocabulary
Aids in language development
Encourages participation, more interactivity
Provides a positive opportunity to wiggle and squirm as a positive release of energy
Develops listening skills
Teaches number and counting skills
Helps develop the concepts of sequence and order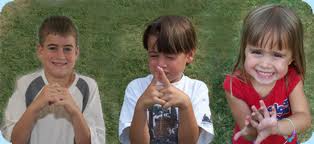 All in all, these activities are just down right fun!  Little ones love to be in motion, so why not use that energy to learn new skills!
Plus a good afternoon of clapping and dancing can make for a good night's sleep.  Parents and little ones can always use a few of those.
Check out the links below for activities for a variety of nursery rhymes.

Dance, Thumbkin, Dance Activity

Five Fat Peas Activity

Five Fat Sausages Activity

Here Is The Church Activity

Here Sits Farmer Giles

Hickory Dickory Dock Activity

Knock At The Door Activity

Pat a Cake Activity

Ten Fingers Activity

There Were Two Blackbirds Activity

This Little Cow Eats Grass

This Little Piggy Activity

Wee Wiggie
Do you have a great game or craft that you do with nursery rhymes?
Children love to play as they learn! Whether that's clapping to the rhythym of the verse, acting out the characters, playing games or creating great artwork!

We would love to hear about games, arts and crafts, fingerplays, anything that you do with your special little one to make nursery rhymes a fun interactive learning activity.

We know our mom's and grandma's have great ways to entertain while teaching their children and grandchildren.

Please share with us those fun learning experiences.