Nursery Rhyme Baby Shower Decorations

Nursery rhyme baby shower decorations are a great way to set a fun and entertaining theme for your party.

Whether you choose a single rhyme or several, you can find all sorts of ways to incorporate the rhymes into the party room's decor.

What can be more fun that inviting your guests into the wonderful, whimsical world of Mother Goose?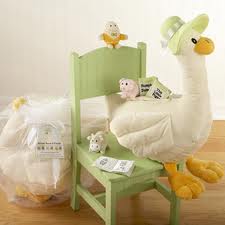 For your guests to feel the full impact of your theme, don't piece meal your decor, rather decorate to the max!
Let the little kid in you out, be creative, let your imagination run wild with your nursery rhyme theme.
Here are some baby shower ideas to help you get those creative juices going.
Download and print pictures of the characters in your selected rhyme or rhymes. Then place them in inexpensive frames and set them around the room or hang on the walls.
Use a large plush goose or a goose yard ornament as a centerpiece. Place a bonnet on it's head and tie a large bow around the neck - the perfect Mother Goose!
Set various nursery rhyme books around the room. These can be given to the mother-to-be once the shower is over.
Float three toy characters in a cup in an infant bathtub for Rub a Dub Dub.
Order or make your own banner with characters from your rhyme.
Paint or color a brick wall on a large sheet of paper. Add Humpty Dumpty to the top of the wall and mount your new mural on a wall in the room.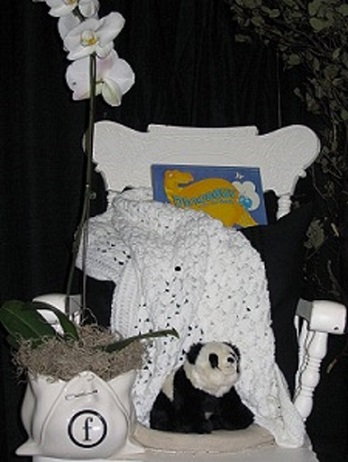 Use multiple green and yellow A Tisket, A Tasketbaskets and fill with small pots of flowers. Or with small stuffed animals.
Create a special corner of the room to depict a scene from a particular rhyme such as Mary, Mary.  Use a personalized Baby Bum as a planter so it's not only a shower decoration, but a special gift for a special newborn.
Diaper cakes can easily be used for nursery rhyme themes. Add small rattles or stuffed animals that represent the rhyme characters. Add stickers or cut outs to represent musical instruments or inanimates like the sun, moon or stars.
Stuffed animals of all sizes that represent characters in your rhyme such as puppies, kittens, lambs, cow, moon, stars and so many more, can sit around in little groups throughout the room.
If you have a large potted plant in the room, place a small stool next to it. Hang a toy spider from the plant. Place Little Miss Muffet on the stool. Or place a bowl with flowers and a spoon on the stool.
Place a cradle with a doll to Rock A Bye Baby.
Cut out of cardboard or construction paper a moon and stars and hang from strings or mount to the walls or windows.
We're sure you have lots of ideas beyond what we have here. Please share them with us and our guests.
We love to see pictures of your fabulous nursery rhyme themed baby shower.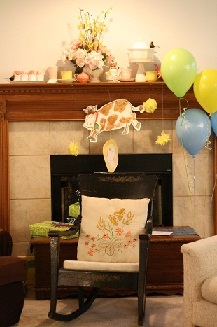 Nursery Rhyme Baby Shower Invitations - set the nursery rhyme theme of your shower with your invitations!
Nursery Rhyme Baby Shower Menu - great ideas for nursery rhyme edibles!
Nursery Rhyme Baby Shower Games - fun activities to entertain your guests!
Nursery Rhyme Baby Shower Favors - make your baby shower memorable for your guests!
Nursery Rhyme Baby Gifts - make for wonderful themed presents!
Diaper Cakes - create a delightful centerpiece that is also a wonderful gift for the mother to be!
Tell us about your nursery rhyme baby shower!
We know our guests have great imaginations! We'd love to hear about the theme you chose and how you set the mood for your guests and mother to be.

Please share with all of us your creative ideas for a wonderful baby shower!