Baby Shower Games and Activities
Baby shower games and activities are a great way to get your guests to interact and have fun during the shower.
You'll want to keep in mind who your guests are and the time that you have alloted for the shower when selecting your baby shower activities.
For instance, if your shower is being held in a work location and you have a brief time, you'll want to choose baby shower games that can be played quickly like 'fill in the blanks'.
You may even want to put a time limit on how long they can play each game to keep the pace of the shower moving forward.
If you have plenty of time, you can choose games that may take a little longer, like nursery rhyme pictionary.
You can select or design your baby shower games and activities around your shower theme.
Here we discuss several activities using nursery rhymes as our central theme to our baby shower.
Onesie Painting Activity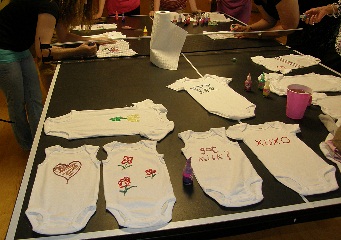 Mothers can always use onesies!
A fun baby shower activity that lends itself to a nursery rhyme theme or any other theme is to have the guests design onesies.
For this activity you need to purchase some plain onesies. We bought sizes up to 24 months so that there would be plenty of these one of kind designer items as the infant grows up.
You'll need at least one per guest, we had about 2-3 per guest so they could truly express themselves.
Buy small squeeze bottles of fabric paint in a variety of colors. These come in glitter, puffy, pastels, brights and all sorts of colors.
Then have your shower guests design their very own onesie with a nursery rhyme in mind.
Imagine the great little designs, verses and more that will magically appear on these one of kind onesies.
We found this brought out all sorts of creative thoughts, giggles and totally delightful one of kind items for the newborn.
Nursery Rhyme Word Games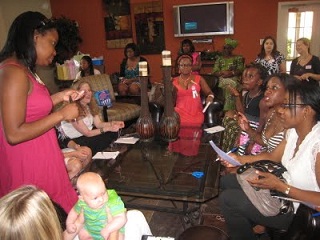 Nursery rhymes can easily be incorporated into various word games.
Such as guessing what the title of the nursery rhyme is based on clues.
Or filling in the missing words or next line of the verse.
You can also have word games where the guests match the rhyme title with the line or character in the verse.
Nursery Rhyme Team Games
A great way to get your guests to interact with each other is to have team games.
Divide your guests up into what ever number of teams makes sense for the crowd and the game.
Print nursery rhyme titles on a pages and cut them into strips. Fold them and place them in a basket to be drawn out by the teams for the games.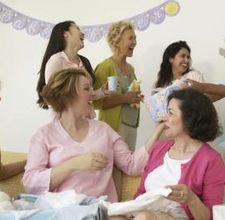 You can play nursery rhyme charades, pictionary, fill in the next line of the verse.
Or whatever fun ideas you come up with on your own.
Whatever games and activities you choose for your nursery rhyme themed baby shower, they are sure to be a real hit.
Be sure to have prizes or extra party favors for the winners of all your games.
Nursery Rhyme Baby Shower Invitations - great ways to set the theme for your baby shower!
Nursery Rhyme Baby Shower Menu - imagine all sorts of great nursery rhyme edibles!
Nursery Rhyme Baby Shower Decorations - fun ways to set the tone of the shower throughout your home!
Nursery Rhyme Baby Shower Games eBook - lots of ways to have fun with your guests!
Nursery Rhyme Baby Shower Favors - fun nursery rhyme items for your guests to remember your party!
Nursery Rhyme Baby Gifts - wonderful themed baby presents!
Diaper Cakes - great baby shower centerpiece and gift all in one!
Lots of fun to be had!
Did you try any of our nursery rhyme baby shower games? Did you come up with new ones for your baby shower?

We'd love to hear about them! Simply fill in the box below and tell us your ideas, or how much fun you and your guests had playing games.
What Other Visitors Have Said
Click below to see contributions from other visitors to this page...

Nursery Rhyme Games Not rated yet
We are having a baby shower for my niece and decided on a nursery rhyme theme. I came up with an idea for a game by placing items from the rhymes in …