Muffin Man 
Blueberry Muffins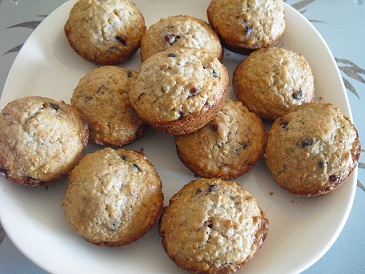 Did you know that back in the early 1800's, muffins were so popular that there really were Muffin Men?  
They traveled around the county ringing a bell announcing their muffins for sale.
Now you can present this old time tradition at your nursery rhyme themed baby shower with our blueberry muffin recipe.
Ingredients:   
Directions:    
Preheat oven to 400 F degrees.

Combine flour and sugar in a large bowl, make a well in the center of the mixture.

Whisk together the milk, oil, and eggs until well blended.

Add liquids to the flour mixture.

Stir until dry ingredients are moistened.

Gently fold in blueberries.

Spoon mixture into lightly greased muffin pans, filling two-thirds full.
Bake for 15-18 minutes or until golden brown.
Makes one dozen standard sized muffins.
What delicious nursery rhyme menu items do you have?
We know there are fabulously creative cooks out there who can whip up a delightful nursery rhyme dish! We'd love to hear about your menu and recipe ideas, so please share with all of us. Everyone would love to have a great menu for a their successful baby shower.
Return to Baby Shower Menu from Muffin Man Blueberry Muffins