Baby Shower Games eBook
You know as well as I do, that one of the things we all dread the most about baby showers is those ridiculous games that you are obligated to play.
Sometimes those games make you feel so juvenile.
You sit there wondering, why all these adult women are participating in something so ridiculous.
If you get through the embarrassingly silly games, you find yourself playing the same old boring games that are played over and over again at every baby shower you attend.
You wonder if there is a way to have a baby shower with fun activities that a hostess can prepare for her guests to make a baby shower a little more entertaining.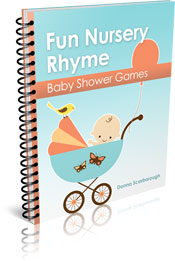 I certainly wondered the same thing when I was planning a baby shower for my beautiful daughter.
She was pregnant with her second child, a little girl, that had us all over the top with excitement.
I wanted to do some activities that would be easy to prepare for, be more adult in nature, have a bit of a challenge to them, yet be fun and make my guests grin and giggle.
But first I needed a theme for the baby shower.
We knew she was having a girl...... so what ideas beyond "pink" could I use for the shower?
For her son's shower, we simply went with blue. And yes, we did play some of those typical silly baby shower games.
So what could I do differently for this baby girl shower I was planning?
I had been reading nursery rhymes to my grandson, who was really enjoying them.
Those catchy little verses that we all remember....some even have such a rhythm, you could even dance to them.
This gave me the idea to use those fun little verses for the theme for my new granddaughter's shower.
Nursery rhyme themes lend themselves to all sorts of great decor ideas, invitations, thank you notes, menu items and shower games.
Since we all know something about those delightful little verses that we all grew up with, I figured party games would be a lot of fun.
Those fun little rhymes stick in our memories for the rest of our lives.
Or least parts of them do.
I came up with several different games to play that incorporated nursery rhymes for the baby shower. There are hundreds of these great little verses that could be used.
So the games could be easy or difficult depending on the popularity of the rhymes I chose to put into the games.
A baby shower shouldn't last all day, so I wanted the shower games to be designed so they could be played in 5-15 minutes.
This way I could incorporate several different activities for the party so my guests wouldn't get bored.
The games needed to allow my guests to be entertained, get to know each other a bit better, be adult in nature, mind challenging, and most of all fun!
I created two games for my daughter's baby shower using nursery rhymes.
Name That Nursery Rhyme used fun clues that my guests had to decipher to name the title of the nursery rhyme.
Nursery Rhyme Clues asked my guest to fill in the blanks for popular rhymes.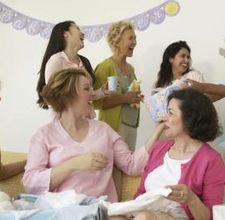 My guests had a blast!
We enjoyed lots of giggling as they worked hard to deduce the name of the nursery rhyme from the clues they were given.
There were also lots of moans as they struggled to find the right word(s) to finish the verse.
The best part came when we got to "grade" the results and read out loud their answers.
What a HOOT!
I never realized that nursery rhymes could be turned into so many different versions!
They laughed till they were in tears hearing some of their answers.
Then they squealed when they learned they had actually answered one correctly.
These little games really made our nursery rhyme themed baby shower a real success!
As friends and family talked to me about the fun they had at my daughter's baby shower, I thought why not share those nursery rhyme games.
So I have expanded on the two original baby shower games to give you lots of choices on game type and degree of difficulty to share with your guests.
Fun Nursery Rhyme Baby Shower Games is an ebook of original games and puzzles for your next baby shower.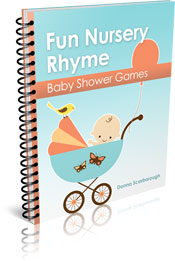 This baby shower games ebook brings you nineteen (19) games sorted into five (5) different types of games.
The games range from crossword and seek and find puzzles to nursery rhyme Pictionary.
All are based on those great little Mother Goose Nursery Rhymes that we have all recited from toddlers to adults.
Each game comes with a hostess guide to assist you with rules, suggested times to run the game and the answers to the questions and puzzles.
All you have to do is print enough pages of the game(s) you like for each of your guests to have a game page to play.
You'll also want to print off the hostess guide for the game(s) you select so that you have the answers ready to share.
You can print the games on plain white paper or on colored paper that matches the color theme of your party décor.
All the hard work is already done for you in this handy little baby shower games ebook.
Simply print and play!
You will be the hostess with the most creative and fun baby shower games.
Unlike other baby shower game offerings, this ebook offers you nineteen different games for the price of one found on many other baby shower sites.
Just follow the link to the payment page. Once you have securely paid for your baby shower games ebook, you will be able to instantly download it to your computer.
No waiting, no shipping costs, you simply download a copy directly to your computer.
Once you have it filed safely on your computer, you can print off as many pages as you need for your guests, all for one low price.
You will need Adobe Reader (the latest version is recommended) installed on your computer in order to open and read this e-book.
You can download Adobe Reader here (a new window will open so you can download it without leaving this page).
In order to print, open the downloaded file, and select the "Print" option from the e-book menu.
Why Fun Nursery Rhyme Baby Shower Games eBook?
Large selection of baby shower games for one low price
Everyone knows something about nursery rhymes
Comes with hostess guides for each game
Purchase easily and securely through PayPal
Access instantly- You will be reading your book in minutes
Choose printing options- Print a few pages at a time
Print on colored paper to match your shower theme
More baby shower games for your money!
All this for just $5.99!
How would you like to sample one of our games?
It's easy!
Just click on this link to a full page nursery rhyme shower game.

Just one of the 19 baby shower games you can have for only $5.99.

Return to Baby Shower Games from Baby Shower Games eBook