Nursery Rhyme Theme Nursery

A nursery rhyme theme nursery is a wonderful way to bring charm, delight, fun and fantasy into your baby's room.

With the hundreds of nursery rhymes to choose from, there are limitless possibilities to the nursery decor options you can select.
You want your newborn's nursery room to be that special sanctuary for you to spend time with your little one.
So why not make the room perfect!
There are several reasons that a nursery rhyme theme nursery is a great place to start in creating the best baby room ever!
Nursery rhyme themes can .............
Be gender specific or gender neutral allowing the room to be used for future little ones.
Be soft and subtle or bold and bright reflecting the personality of you and your family.
Create a space that can grow with your newborn as they grow so no need to totally redecorate as your little one goes from newborn to toddler to preschool.
Create a room ready to stimulate early learning for your little one.
So let's take a look at just a few of the possibilities you could put together.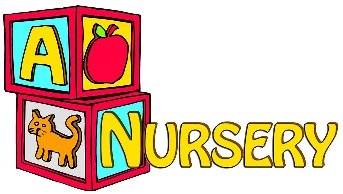 Boys Nursery Rhyme Themes
Do you like bright colors and lots of actions? How about a room centered around animals or undersea creatures? Perhaps you have a fondness for boats or teddy bears.
It's easy to find nursery rhymes that fit any of the above or more for a little baby boy's room.
Let's take The Animal Fair, it talks about birds and beasts, elephants and monkeys.
What wonderful creatures to work with to create a fantasy forest or jungle of delightfully playful animals.
The colors could be bright and boisterous or dark and mysterious!
Fun animals can be incorporated in murals, pictures, printed sheets, blanket, mobiles and rugs.
Cover a wall with a forest of thick trees with swinging monkeys.
I could go on and on and this is just one little boy's room concept.
Others to consider for a little boy's nursery rhyme theme nursery could be..........
A Hunting We Will Go - incorporate horses with riders in hunting coats, dogs, foxes, pigs, bears and even a giraffe!
Five Little Monkeys - all sorts of swinging fun here with little monkeys on everything imaginable
Humpty Dumpty - can be painted on a brick wall

mural

, lamps, night lights, have all the kings horses and men riding to save the day
Little Boy Blue - how about a haystack teepee to crawl in and hide under? Some sheep and cows, perhaps playing horns?
Old McDonald - tractors and cows, horses and pigs, barns and trucks - sounds like a perfect room for a little boy!

Girls Nursery Rhyme Themes
So you're expecting a beautiful little girl to arrive? There's plenty of nursery rhymes to create a wonderland for your little sweetheart.
We tend to think little girl's rooms should be pretty and flowery or even with a princess theme.
We certainly have rhymes to fit the bill...............
Butterfly, Butterfly - can't you just see a room full of various sizes and colors of butterflies flitting from flower to flower?
Mary, Mary - a garden of beautiful flowers and watering cans for this contrary little one.
She Sells Seashells - create a delightful beach room, with sandy colored carpet, sandcastles on the walls, sea shells abound.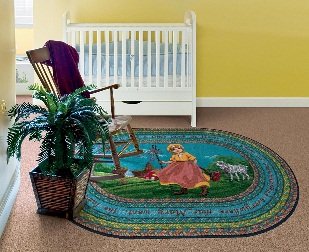 Gender Neutral Nursery Rhyme Themes
Perhaps you intend to reuse your nursery as your family grows.
Since you won't know what to expect each time a little one comes along, you might want to consider more gender neutral themes.
So let's take a look at how some rhymes could be used over and over for several new little ones.............
ABC's - alphabet letters everywhere - they could be in all sorts of colors, size and shapes
Animal Alphabet - take those ABC's to a whole new level with animals representing each letter
Hey Diddle Diddle - this beloved rhyme has all sorts of fun characters to incorporate in your room, cats, dogs, moon and stars
It's easy to see how nursery rhymes can create the perfect theme for your new baby's room.
Just click on the links below to start gathering ideas to create one of the most important rooms you'll ever put together!
After you have created your dream baby nursery, please come back here and share with us.
We love to see how our visitors use their imagination and creativity to create wondrous spaces!
Baby Nursery - Great ideas to start on designing this all important room!
Baby Quilts - Beautiful handmade quilts perfect for any nursery!
Bedding- That all important crib bedding really brings the whole room together!
Ceilings - Ceilings are a great fifth wall!
Colors - can be soft and subtle or bold and bright!
Flooring - Floors in all sorts of finishes for your nursery room.
Furniture - How to get started to select the pieces you want!
Lighting - Lighting can add so much to your nursery!
Wall Finishes - There are as many ways to finish walls as their are rhymes!
Have a Nursery Rhyme Theme Nursery?
What a delight you must have brought to your newborn's room. Nursery rhymes bring such whimsy and creativity to a child's life.

We'd love to hear about the rhyme you selected, how you brought it to life in your baby's room.

What special little details did you create to make the most wonderful nursery ever?

Tell us about the fun you had creating this incredible space for your newborn!
Check out these other wonderful baby rooms....
Click below to see contributions from other visitors to this page...

Traditional Baby Boy Nursery Rhyme Nursery Not rated yet
I created this nursery for my son. It is actually very gender neutral! I found the bedding set and most of the coordinating items from Wamsutta Baby....it's …
<