Traditional Baby Boy Nursery Rhyme Nursery
by Keesha
(Albuquerque, NM)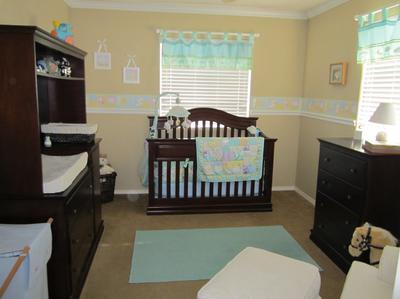 Nursery Rhyme Themed Baby Boy Room
I created this nursery for my son. It is actually very gender neutral!

I found the bedding set and most of the coordinating items from Wamsutta Baby....it's the cutest bedding set that I have ever seen and it was not that expensive.

I painted the walls tan so I would not have to re-paint the room when he gets older.

I put up white crown molding and chair rail around the room, then put a matching "nursery rhymes" border above the chair rail to tie everything together.

I purchased white, wood curtain rods to match all of the molding in the room, and a dark wood fan to match the baby furniture.

I found most of my decorations that did not come with the set from all over...garage sales, online and second hand stores. I purchased a shelf and book ends with moons and stars to compliment the "cow jumped over the moon" items.

I purchased an aqua rug from Ross for $17.99. Nursery rugs are so expensive...any solid colored rug will work great!

I picked a cream colored rocking chair and ottoman so I would have a neutral color to use for our second child.

I had a blast decorating this nursery! You don't have to spend a whole lot of money....just get creative and spend a little extra time shopping.


Keesha,

Thank you so much for sharing this gorgeous nursery rhyme themed baby room with us. Your room is fabulous!








Join in and write your own page! It's easy to do. How? Simply click here to return to babynurseryrooms.