Mary, Mary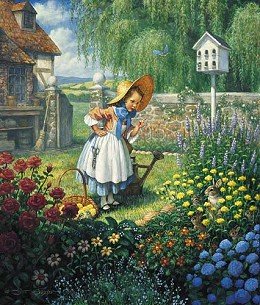 Mary, Mary, quite contrary
How does your garden grow?
With silver bells and cockleshells
And pretty maids all in a row.
---
Mary Mary Story Basket - fun interactive way to learn this rhyme!
---
Coloring Pages
Coloring pages are lots of fun for little ones.  They enjoy learning new skills and adding their own creativity to the page.  
Just click on a link below for a free coloring page that goes along with this rhyme.  Once the link has opened you may print as many as you like.
Bouquet      Daffodils       Flowers       Garden Tools     
---
Return to Nursery Rhyme List for M, N, O from Mary, Mary