Baby Nursery Wall Finishes
There are endless options out there for your baby nursery wall finishes.
From a simple coat of paint, to hand painted or appliqued murals and detailed stencils, there is no end to the way you can decorate the walls in your nursery.
When you have your nursery rhyme theme chosen, think about the characters, the setting or even the actions that occur in the rhyme.
This will help you with ideas on how you want to incorporate the theme in your decor.
Let's talk through an example of ideas you can use on your walls.
We'll see what we can do with the nursery rhyme theme of Mary, Mary Quite Contrary.
Basic Wall Ideas:
Paint all four walls a pale shade of green.
Add pictures of gardens or flowers in bright white frames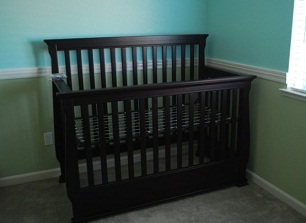 Little More:
Add a chair rail to your walls and paint the bottom wall a medium shade of green, paint the upper wall a sky blue.
Paint the chair rail white and paint white "pickets" from the baseboard to the chair rail.
Add pictures of gardens or flowers in bright white frames.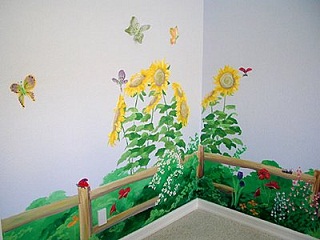 Another approach:
Paint three of the walls a pale shade of green
Select the fourth wall as an accent wall, so you don't want a dresser or crib against the wall. Rather a child's size table and chairs will work.
Paint the accent wall as a full mural of a garden. Complete with little path, all sorts of varied flowers and colors. Be sure to have a beautiful blue sky with white fluffy clouds.
Set the child's size table and chair "in the garden" by placing in front of the wall.
There you have three different looks and all we used was paint!
So let's say you like the garden wall idea, but you simply are not an artist.


You can also use wallpaper or stencils to add details to your walls.
Wallpaper can be a flowery pattern or a flowered mural. Some online businesses will even take your photo and turn it into a beautiful mural for you.
Another easy and creative way to decorate your walls is to your wall stickers.
Whether you use all the walls or set one up as an accent, you'll find all sorts of creative ideas to really set your nursery room off.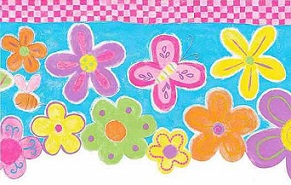 Or if you are not up to full walls of print flowers, you can always go with a border. Leave your walls a subtle color and add a great punch of color with a brightly colored border.
You still set the tone of being in a beautiful flower garden whether you use paint or paper. As you can see, we've taken quite a few approaches to our original theme of Mary, Mary Quite Contrary.
And all we've done so far is finish our walls.
We still need to think about floors, crib bedding, lighting, furniture and other accessories.
Baby Quilts - Beautiful handmade quilts perfect for any nursery!
Bedding- That all important crib bedding brings the whole nursery together!
Ceilings - Ceilings are the best fifth wall!
Colors - From soft and subtle to bright and bold!
Flooring - Flooring of all types for your nursery.
Furniture - From basics to over the top!
Lighting - Lighting can add whimsy and drama to your nursery!
Nursery Rhyme Themed Nursery -Choosing the theme for your nursery.
Wall Finishes - There are as many ways to finish walls as there are rhymes.
Have a Nursery Rhyme Theme Nursery?
What a delight you must have brought to your newborn's room. Nursery rhymes bring such whimsy and creativity to a child's life.

We'd love to hear about the rhyme you selected, how you brought it to life in your baby's room.

What special little details did you create to make the most wonderful nursery ever?

Tell us about the fun you had creating this incredible space for your newborn!