Homemade Costume Supplies

Whether just keeping homemade costume supplies on hand for your childs' dress up play, or for making costumes for Halloween or parties, it's easy to find items around the house.
Costume supplies can also be picked up at yard sales, consignment shops or local discount and craft stores.
Here we have gathered a list of various items that can easily be turned into great nursery rhyme costumes with just a touch of imagination.



Arts & Craft Items
All sorts of arts and craft items will make great accessories for costumes.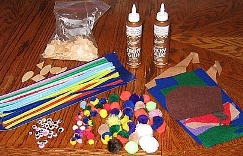 Cardboard boxes of all sizes
Washable markers, crayons
Posterboards of various colors
Cardboard tubes from paper towels, wrapping paper, toilet paper
Pipe cleaners - various sizes and colors
Aluminum foil - for that metallic look
Pom poms - great for antennae
Colored construction paper
Clothing
All sorts of clothes that adults in the household are no longer wearing are easy items to place in a costume box.
Camisoles, slips (full and half)
Leotards - all colors, especially black
Tights - all colors, especially black
Sweatshirts - solid colors are best
Hats -ski caps, baseball caps, dress hats
Headbands - especially plastic
Costume jewelry - the flashier the better
Makeup Items
Children have problems with masks as they tend to be difficult for them to see out of. Makeup is a great way to get the same effect without the distractions.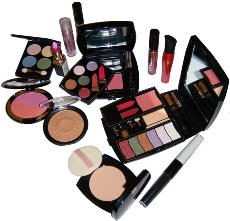 Lip pencils, gloss, lipsticks
There you have it! The perfect kit for dress up or homemade costumes!
Face Paint - face paint recipes to make from items in your kitchen!
Baker's or Muffin Man Costume - This costume works for several great nursery rhymes.
Chicken or Rooster Costume - the most adorable little chick!
Farmer Costume - so easy to have your own Old MacDonald!
Humpty Dumpty Costume - Easy for your little egg!
Jack or Jill Costumes - Great idea if you have both a boy and a girl to dress up.
Ladybug Costume - So easy to make this cute as a bug costume.
Lamb Costume - Great for toddlers.
Little Bo Peep Costume - A shepherd's hook and a lamb complete this costume.
Little Boy Blue Costume - This costume can be pulled together virtually from your little one's closet.
Little Miss Muffet Costume - Add a spider, bowl and spoon for Miss Muffet.
Mary Had A Little Lamb Costume - Just a few props and you have the cutest Mary.

Mary Quite Contrary Costume - so easy to let her garden grow!
Peter PumpkinEater Costume - get Peter and his wife!
Scarecrow Costume - Easy to make scarecrow costumes from items around the house!

Spider Costume - Here's an easy to make companion for Little Miss Muffet.
Wee Willie Winkie Costume - an easy and adorable costume.