Homemade Little Bo Peep Costume
Little Bo Peep is an easy costume to put together.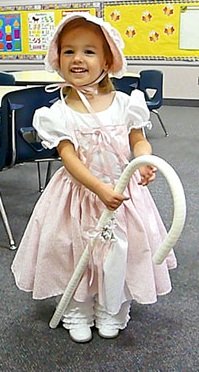 You'll need the following
Prettiest dress your little one owns
Small version of a garden shepherd's hook - can be found at discount garden centers in all sorts of sizes
Sturdy cardboard (if you don't have a shepherds hook)
Dress your little one in her prettiest dress.
If you have a shepherd's hook, tie the ribbon to the top in a bow with some ribbon for tails.
If you don't have a garden shephard's hook, you can use a plastic candy cane.
Spray paint the plastic candy cane to whatever color that will coordinate with your Little Bo Peep's dress.
If neither idea above works for your shepherd's hook, draw one on the sturdy cardboard.
Paint or color the hook and cut it out.
Tie the ribbon to the top of your cardboard hook.
Have your Little Bo Peep carry the hook and the lamb.
Easy and adorable!
Return to Little Bo Peep from Homemade Little Bo Peep Costume