Homemade Miss Muffet Costume

A few simple props and a frilly dress are all you need to put this homemade Miss Muffet costume together.
Just a few things you'll need:
Plastic or furry toy spider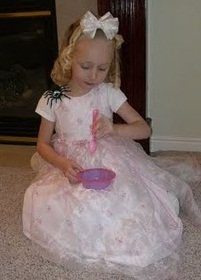 Dress your little girl up in the frilliest little dress she owns.
Pin the spider to the skirt or shoulder of the dress.
If you have a bonnet or hat, have her wear it.
Have her carry the bowl and spoon for her curds and whey.