Wee Wiggie Activity
There's something about playing with an infant's toes that is so much fun. This Wee Wiggie Activity gives you plenty of excuses to enjoy playing with those toes. The little ones usually giggle with delight too!
Wee Wiggie,
(wiggle little toe)
Poke Piggie,
(wiggle next toe)
Tom Whistle,
(wiggle middle toe)
John Gristle,
(wiggle next toe)
And old BIG GOBBLE,
(wiggle then grab big toe pretending to gobble it)
Gobble, gobble!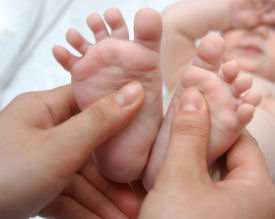 Check out related rhymes and activities!
This Little Piggy Nursery Rhyme
This Little Piggy Activity

Return to Hand and Fingerplay Acitivity from Wee Wiggie Activity
Do you have a great game or craft that you do with nursery rhymes?
Children love to play as they learn! Whether that's clapping to the rhythym of the verse, acting out the characters, playing games or creating great artwork!

We would love to hear about games, arts and crafts, fingerplays, anything that you do with your special little one to make nursery rhymes a fun interactive learning activity.

We know our mom's and grandma's have great ways to entertain while teaching their children and grandchildren.

Please share with us those fun learning experiences.


Check out other fun activities from our visitors
Click below to see contributions from other visitors to this page...

Alternate This Little Piggy Activity

This little piggy stubbed his (her) toe. (Wiggle big toe) This little piggy said Uh! Oh! (Wiggle second toe) This little piggy laughed he (she) …