Square diaper cakes are a cinch to create. They are also a lot quicker to assemble than the candlestick method.
Depending on the items you select to decorate your cake, you may find that a square diaper cake is much more suitable a style.
For this example, I created a square diaper cake for my theme "Five Little Monkeys". This is a delightful theme, especially for little baby boys. This particular cake was selected for a boy's baby shower.
Diaper cake ingredients:
94 - size 2 disposable diapers
1 package of assorted small to medium sized rubber bands
2 large rubber bands
Double back tape and glue dots
1 12" square cardboard cake plate
3 rolls of different but coordinating ribbons
3 receiving blankets
2 monkey print sleepers
2 monkey face towels
1 package of electrical outlet covers
4 infant washcloths
1 package of baby wipes
1 monkey toy
1 pair brown knit booties
Begin by stacking together flat disposable diapers. Be sure to alternate the folded ends so that you do not end up with one side thicker than the other.
Stack together 12-15 diapers. For my square diaper cake I stacked 12 diapers together.
Hold them together with a rubber band.
Make enough of these stacks to cover the cake base with as much edge showing as you desire.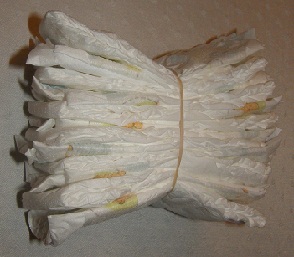 For my cake, I assembled six stacks of 12 diapers for the first layer.

Stand each of your packages of diapers on their narrow end to cover the base and secure all the stacks together with a large rubber band.
For my "Five Little Monkeys" diaper cake, I wanted a nice "iced" look for my layers.
I did this by wrapping each of my layers in one of the receiving blankets.
I wrapped each layer similar to wrapping a gift box using the double back tape to secure the ends in place.
I purchased a set of three different but coordinating blankets. This gave each of my layers a fun and distinctive look, while following the same color theme of blues and browns.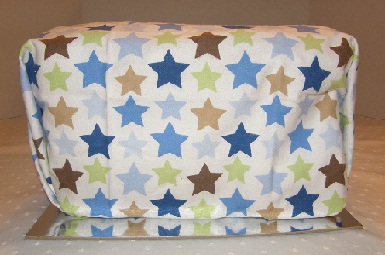 For the second layer, assemble the same way only use 8-10 diapers per stack.
For the top layer, I stacked four diapers on top of the package of baby wipes. The diapers and wipes were secured with a medium size rubber band.
When you make your diaper cakes, you can hide special items within the layers as little surprises for the mother to be, Not everything has to decorate the outside of the cake.
Be creative with the items you purchased and see if they can work inside the "batter" as well as "icing on the cake".
Once all my layers were "iced", I was ready to start the real fun!
I wrapped a wide blue ribbon around each of the layers. Then started tucking different items into place.
Always use double back tape or glue dots to secure your decorations to the layers of the cake.
Once I had things secured to the layers, I use another style ribbon to secure all three layers to the cake base.
Then secured the little monkey/blankie toy in place as the topper.
The most adorable "Five Little Monkeys" diaper cake for a special little boy!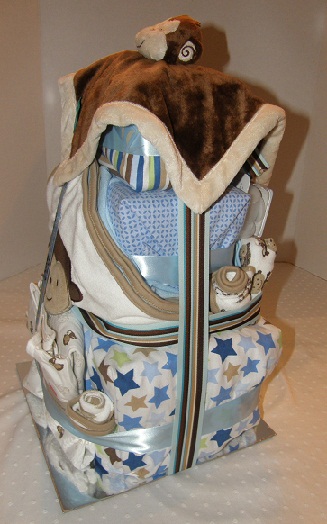 Share your creative diaper cake recipe with us!
Have you created your own unique and delectable diaper cake recipe?

Share your wonderful creation with the us and get even more of those well deserved "ooohhh's" and "aaahhhh's".

Not only will you be sharing your creative genius with lots of women in the world, you will automatically be entered in our Diaper Cake of the Month contest.
Diaper Cakes - the most useful and creative new baby gift!
Diaper Cake Ingredients - basics needed to "bake" your cake!
Candlestick Diaper Cakes - the most popular style of diaper cake!
Wrapped Diaper Cakes - simple as it sounds!
Nursery Rhyme Diaper Cakes - nursery rhymes are perfect themes!
Diaper Cake of the Month - a fun creativity contest!
Five Little Monkeys Diaper Cake - boys and monkeys the perfect pair
Little Boy Blue Diaper Cake - blue is perfect for baby boys!
The Owl & The Pussycat Diaper Cake - adorable for little girls
What Are Little Boys Made Of - dogs and snails and puppy dog tails
Wise Old Owl Diaper Cake - adorable for a baby girl!