Nursery Rhyme Diaper Cakes
Nursery rhyme diaper cakes are a wonderful way to set the tone for your baby shower.
These creative gifts for the mother to be make wonderful centerpieces for your gift or food table.
Imagine a beautifully decorated nursery rhyme diaper cake surrounded by all sorts of deliciously prepared nursery rhyme recipes.
They can really be the finishing touch to your theme.
So let's talk about how you can use your creative imagination to "bake" a most unique and appreciated gift.
Select a nursery rhyme that fits with the gender of the baby. Or if you don't know, you can always choose a generic type theme.
If you know the color scheme or theme that the mother to be has chosen for her baby room, you can select nursery rhymes that can fit into that color or theme.
Print out on pretty paper or hand write with caligraphy on beautiful note cards the actual rhyme you have selected and tie it to the cake with curly ribbons,
Check out some of these ideas to get your creative juices flowing......
For a girl themed gift:
For a boy themed gift: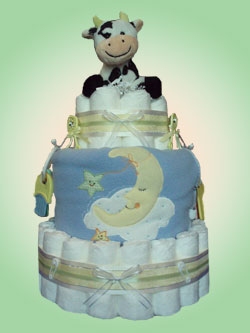 For a generic themed gift:
There are all sorts of ideas that you can use to incorporate a nursery rhyme into the theme of your diaper cake.
Share your creative diaper cake recipe with us!
Have you created your own unique and delectable diaper cake recipe?

Share your wonderful creation with the us and get even more of those well deserved "ooohhh's" and "aaahhhh's".

Not only will you be sharing your creative genius with lots of women in the world, you will automatically be entered in our Diaper Cake of the Month contest.
Diaper Cakes - the most useful and creative new baby gift!
Diaper Cake Ingredients - basics needed to "bake" your cake!
Candlestick Diaper Cakes - the most popular style of diaper cake!
Square Diaper Cakes - easy as pie to create this wonderful cake!
Wrapped Diaper Cakes - simple as it sounds!
Diaper Cake of the Month - a fun creativity contest!
Five Little Monkeys Diaper Cake - boys and monkeys the perfect pair
Little Boy Blue Diaper Cake - blue is perfect for baby boys!
The Owl & The Pussycat Diaper Cake - adorable for little girls
What Are Little Boys Made Of - dogs and snails and puppy dog tails
Wise Old Owl Diaper Cake - adorable for a baby girl!