Pacifier Holder
by
Quilted Rhymes

Made for Cuddling!
Have you ever found yourself stumbling around in a dark nursery trying desperately to find that pacifier that your adorable little one lost?  All the while that precious little one has found his/her lungs and is letting you know how unhappy they are.
Hence, the need for our one of kind pacifier holder!
Simply tie our pacifier bag to the top rail of your crib and fill it with extra pacifiers.  These great little bags can easily hold 4 to 6 extra baby binkys.
Measuring 7.5" x 5.5" with an extra wide opening, it's easy to reach in and grab one to soothe that tearful little one.
Made of 100% cotton material in solids and prints, they are fully lined with 100% cotton flannel.  The cotton flannel helps hold the pacifiers in place till you need one.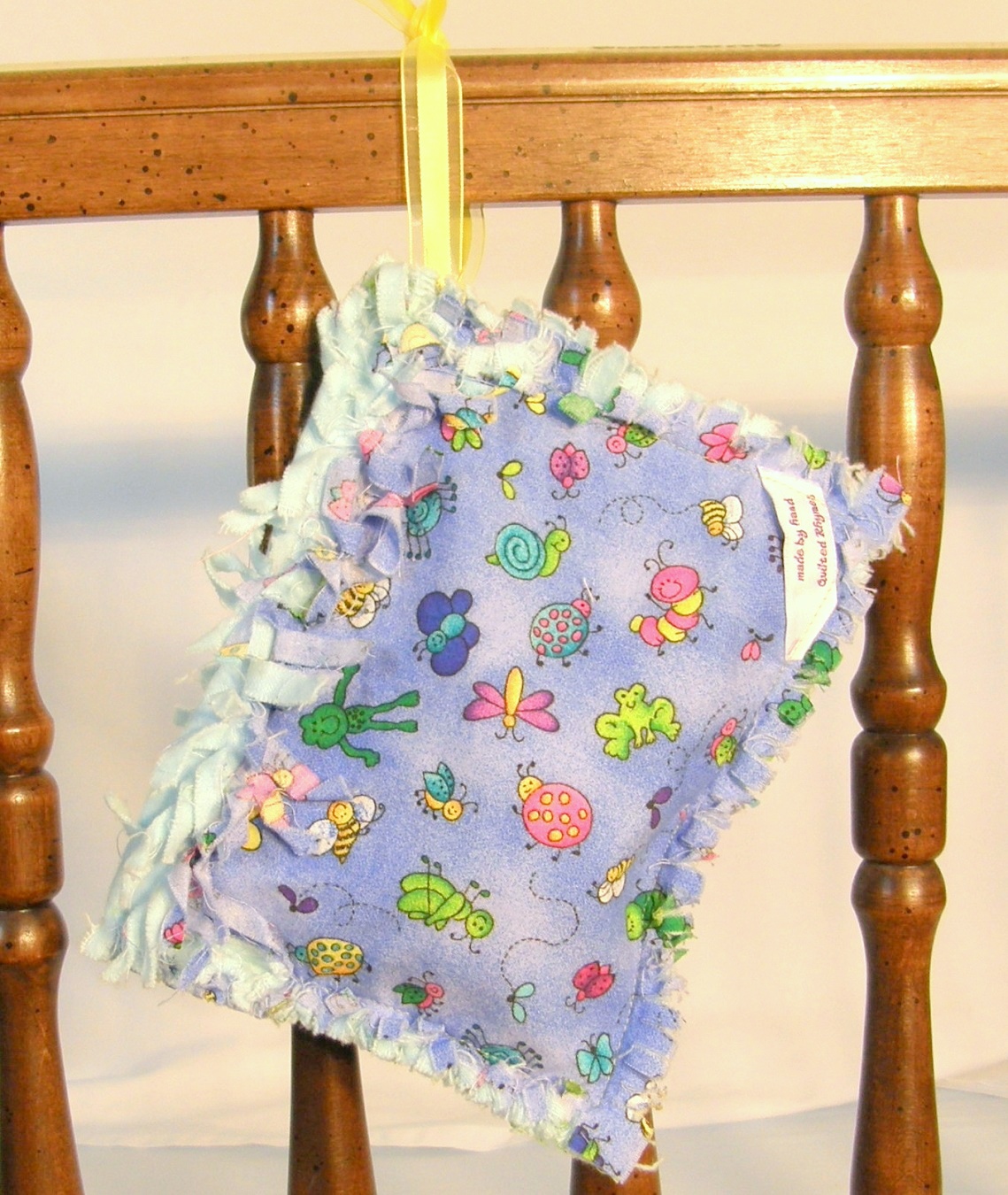 A beautiful fabric coordinating ribbon is sewn into each pacifier bag.
This little ribbon makes it easy to tie your bag to your little one's crib, changing table, the car sear, the stroller, baby carrier, or even a handy door knob.  
Wherever you may need quick easy access to your little ones favorite binky!

Tooth Fairy Bags
Our colorful baby pacifier holder can even grow with your little one to become their Tooth Fairy Bag when the time comes.  
Just tie the Tooth Fairy Bag to their bedpost and tuck that little lost tooth down inside. 
No fumbling around trying to find that tooth under their pillow and Not waking them up.
There's plenty of room in the bag to even tuck in a special note from the Tooth Fairy to really make their day. 

These delightful little bags are so easy to care for.  They are machine washable in warm water and then drying on low heat.
As a matter of fact their cute little curly fringes get softer and more curly with each laundering.
Where to Buy Your Pacifier Holder
Our unique one of a kind pacifier holders are sure to become not only your favorite, but I'm sure they'll quickly become the favorites of many a little one.
Find out why Janice Z says," Received the precious "What Are Little Boys Made Of" baby quilt and it is truly an heirloom treasure for our precious grandson."

Or why Linda G says, "Comfortable and so uniquely beautiful! My grandkids love their quilts!"
Find your very own heirloom treasure by clicking on the link to my shop,

Happy Shopping!
You won't want to miss the opportunity to own that absolutely perfect handmade baby gift.
.
---
Homemade Baby Rag Quilts - The Perfect Baby Quilt
Themed Burp Cloths - Beautiful and functional
Decorative Throw Pillows - Perfect finishing touch
Cuddle Club - Join the club for special offers!