Accent Pillows
by


Quilted Rhymes
Are you wanting one of a kind, adorable, beautiful and charming decorative accent pillows for your nursery or toddler room?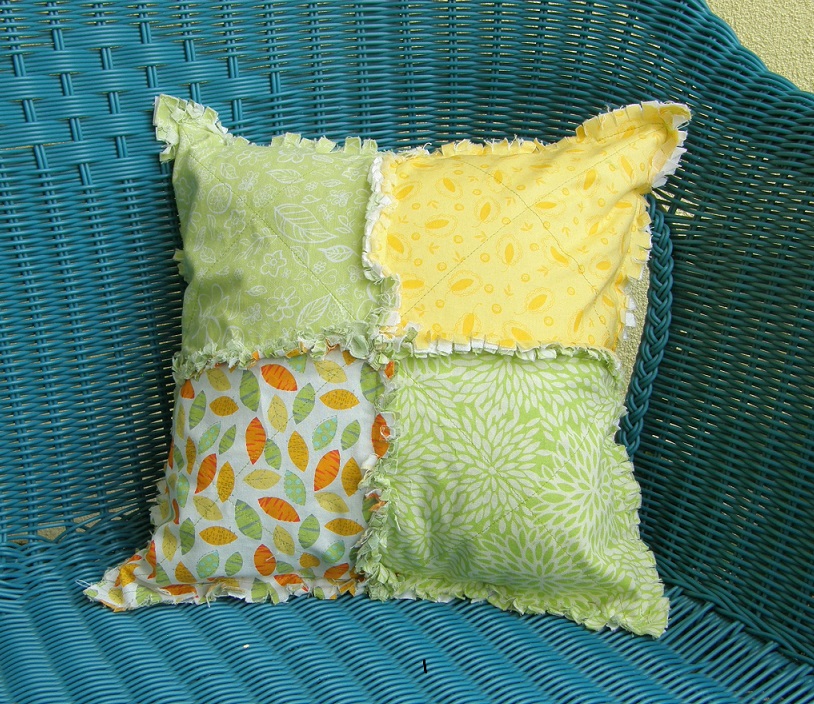 Well, look no further than right here!
We've created a line of whimsical and gorgeous ragged quilt pillows you'll find any where.
We've taken the same attention to quality and details that create our rag quilts to a line of unique decorative pillows.
The Perfect Kids Room Pillow
Our accent pillows are perfect for that added touch to your nursery or toddlers room  Each pillow is a creative interpretation of a favorite children's verse, song or nursery rhyme.
Fun and colorful prints and solid fabrics are assembled into a beautiful four square mini rag quilt.  The pillow inserts are all Dupont denier 7 hypo-allergenic fiberfill.  With the 100% all cotton fabrics and the non allergenic insert, you'll have no worries about stirring up allergies for your little ones.
Quality Construction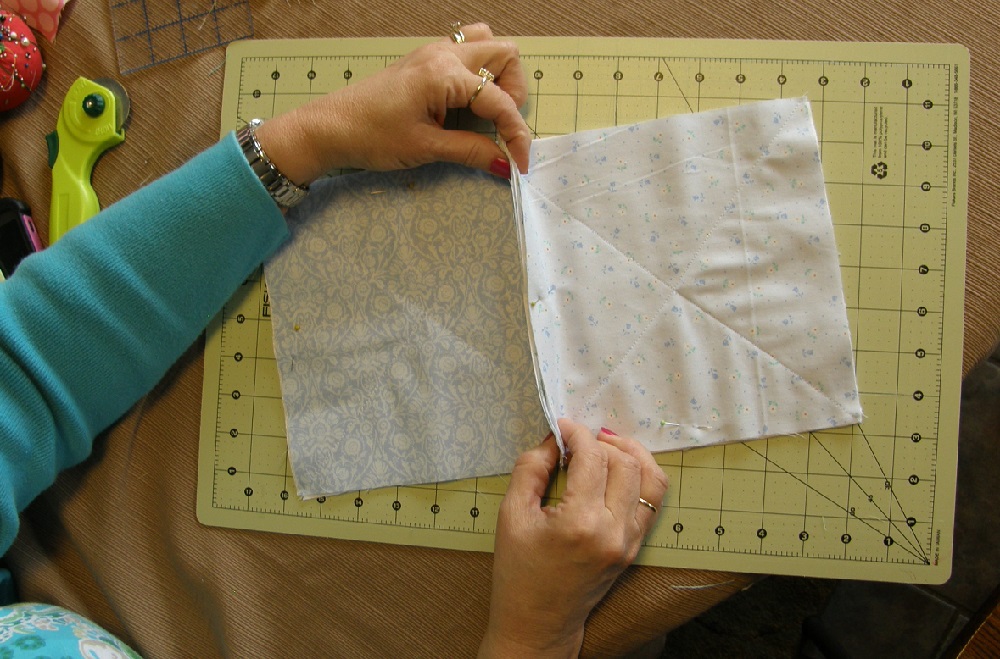 Attention to detail and craftsmanship makes our pillows a true quality item. 
Each fabric selected for the themed quilted pillow is hand cut into 8" squares.  
This allows us to cut the prints in such a way as to create the most beautiful designs.
The printed squares are then laid out carefully to tell their story.  
Our rag quilt pillow fronts are made of two layers of 100% cotton material.  The top layer is a unique design of carefully selected prints that creates a unique theme.
The second layer is a coordinating solid cotton.  The backside of the pillows are 100% cotton solids that coordinate beautifully with our fun and colorful quilted fronts.
Care is taken to be sure that the print for each layered square is laid out correctly so the finished pattern is perfect.  The layered squares are sewn together with the seams exposed.  The exposed seams are what creates the "rag" design.

Beautifully coordinated colored thread is used to put all the pieces together. To make our decorative pillows durable, we sew them with a full 12 stitches per inch.
Once the pillow cover is fully assembled, the exposed seams are hand trimmed to start the "ragging" process.  We hand cut the seams so there is no concern with over cutting too close to the seams.
The Perfect Size
We've taken care to determine the perfect size to make our decorative themed pillows.  Each one is 12" s 12", just right to sit in a rocking chair, glider, on a dresser or a toddlers bed.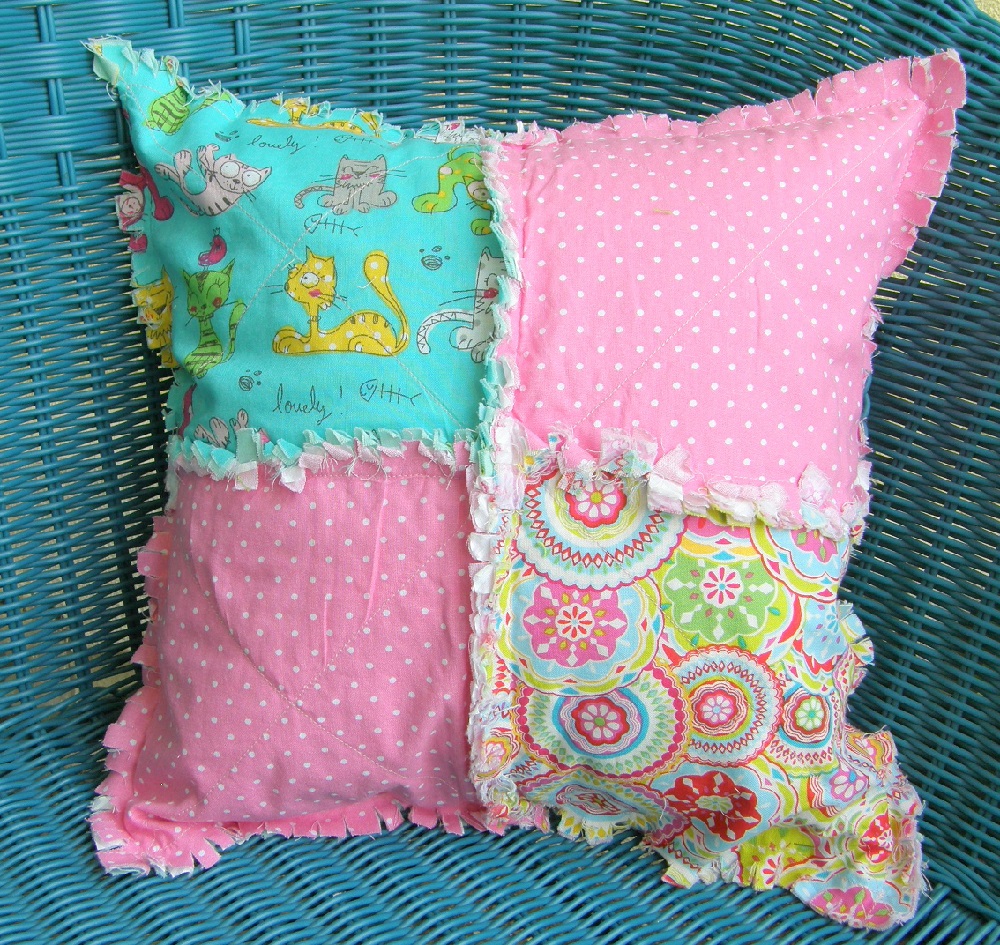 No Two The Same
Each of our accent pillows is based on a children's verse, song or nursery rhyme.  We carefully select each print to tell the story of the selected verse.   
One of the best things about our themed pillows is that they are absolutely one of a kind!  There are literally hundreds of verses for us to choose from.
No one will ever have a pillow just like yours!
Make It Special
We can add a few lines from the verse the pillow is based on with an iron on transfer to the backside of the pillow.  This can be done in any complimentary color ink of your choice.
Do you want a gift that is even more unique for that special little one? 
For a very special pillow, make it an item to remember your baby's birth always.  We will be happy to put your little one's name, date of birth, length and weight in the ink color of your choice on the back of the pillow.
Simply send us your request by clicking on the "Request Custom Order" button on the shop sales page for the pillow you are interested in.  
We'll work with you on your request and do our best to fulfill your wishes!
Where to Buy Our Accent Pillows
Our quilted accent pillows are sure to become a favorite accessory for your baby nursery.  Not only do they serve a great purpose, but they look great too!
You won't want to miss the opportunity to own that absolutely perfect themed pillow for your nursery!
Happy Shopping!
---
Quilted Rhymes - Introducing our very own unique baby shop

Homemade Baby Rag Quilts - The Perfect Baby Quilt
Themed Burp Cloths - Beautiful and functional
Binky Bags to Tooth Fairy Bags - An adorable little problem solver
Home

›
Baby Gifts
› Throw Pillows