Animal Fair 
Story Basket


An Animal Fair story basket is such a fun way to learn this nursery rhyme.
Story baskets are a great way to allow your little one to be creative and stretch their imaginations.
To get them engaged in learning a new rhyme, get them involved at the beginning of the process by having them find or create the props for the story basket.
If they can't find what they want, they can always get a little crafty and create them.  
Sometimes they'll find ways to substitute an item for what it is they are really after.
Not a problem at all!  They are simply using their imaginations to make it so!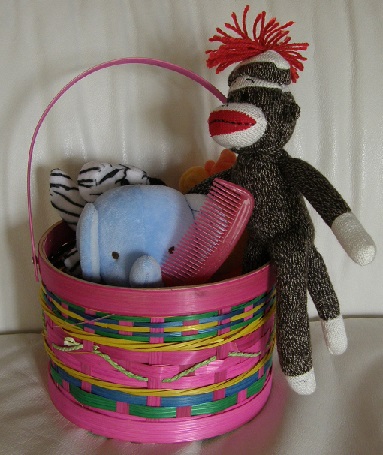 Gathering items for an Animal Fair was a fairly easy task.
A pretty basket, a monkey, an elephant and a small comb is all we needed for this simple little rhyme.
My grandson loves this particular nursery rhyme and was tickled to engage in the story basket ideas.
If you give this idea of story baskets at try, please come back and share with us your special story.  
We'd love to hear what rhyme or story you selected, how you and your little one went about assembling the props, and the results.
We'd really love to see one with video of your little one acting out their special rhyme or story.
Check out these other story basket ideas:
Do you have a story basket to share?
Do you have a great story about this? Share it!
Return to Animal Fair Nursery Rhyme