Five Little Monkeys
Story Basket


Five Little Monkeys story basket is a great fun interactive way to learn this nursery rhyme.
Story baskets are a great way to allow your little one to be creative and stretch their imaginations.
Allow them to find or create the props for the story basket.  This way they'll be engaged from the beginning.
If they can't find what they want, they can always get a little crafty and create them.  
Sometimes they'll find ways to substitute an item for what it is they are really after.
Not a problem at all!  They are simply using their imaginations to make it so!
This fun activity also helps your little one with their counting skills as they play out the nursery rhyme.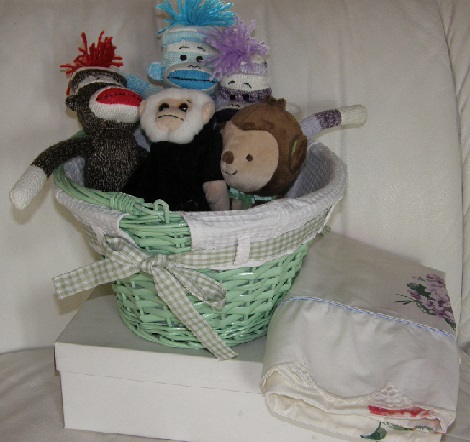 For our Five Little Monkeys story basket we rounded up all the little monkeys we could find till we got to five.  If you have a set of Barrel of Monkeys around, finding five monkeys should be easy.
We found a plain white shoebox and a pretty printed pillowcase.  These two items are making up our bed for our monkeys to jump on.
Easy enough to assemble, now time to learn how to count five little monkeys jumping on the bed.
If you give this idea of story baskets at try, please come back and share with us your special story.  
We'd love to hear what rhyme or story you selected, how you and your little one went about assembling the props, and the results.
We'd really love to see one with video of your little one acting out their special rhyme or story.
Do you have a story basket to share?
Do you have a great story about this? Share it!
Check out these other story baskets:
Three Little Kittens Story Basket
Return to Five Little Monkeys Nursery Rhyme
Return to Story Baskets from Five Little Monkeys Story Basket