Natural Arts and Craft Items
There is nothing better than the great outdoors to give you and your little one wonderful natural arts and craft items.
Natural items lend themselves to lots of creative ideas for nursery rhyme crafts.  From the trees and flowers often found in the verses, to items to create the fun animal characters.
You can also take the opportunities to talk with your child about nature, the importance of taking care of our world, the cycle of life, or how things grow.
A walk with your child in the great outdoors opens up a world for all sorts of phenomenal conversations.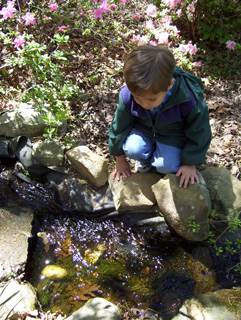 A walk in the back yard, the park, the beach, around the neighborhood can offer up lots of opportunities to collect great and unusual items to use in your next project.
So grab a basket the next time the two of you go out for play or a walk and see what amazing things you can gather.
For some ideas of great natural arts and crafts items to collect, check out the list below.
Pine cones - lots of sizes and shapes
Flower petals - roses, daisies, all sorts of options
Leaves - large, small, green, red, yellow, on and on
Four leaf clovers - even three leaves if that's all you can find
Tree bark - thick, thin, lots of varying sizes, colors and shapes
Rocks - small pebbles in all sorts of sizes and colors
Berries - just be careful not to squish
Nuts - walnuts, acorns, pecans, all sorts of options
Recycled craft supplies can be easily collected from every day items in your home.
Other craft supplies can be picked up at sales at office supply stores, discount stores, yard sales, etc.
Check out these fun projects!
Make A Lamb - from Baa Baa Black Sheep to Mary Had A Little Lamb
Old King Cole's Crown - Make a crown fit for a king!
Spider Web Activities - Lots of creative spider webs for Miss Muffet!
Star Arts and Crafts - Have your little one create a little twinkle!
Do you have a great game or craft that you do with nursery rhymes?
Children love to play as they learn! Whether that's clapping to the rhythym of the verse, acting out the characters, playing games or creating great artwork!

We would love to hear about games, arts and crafts, fingerplays, anything that you do with your special little one to make nursery rhymes a fun interactive learning activity.

We know our mom's and grandma's have great ways to entertain while teaching their children and grandchildren.

Please share with us those fun learning experiences.