Itsy Bitsy Spider
by Darcy
(Palm City ,FL USA)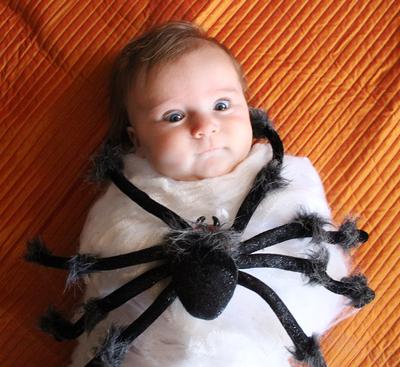 Itsy Bitsy Spider Hug
We have a new little girl. She is 3 mos old and I wanted to make her something cute but different for her first Halloween.

Her 3 year old sister loves Nursery Rhymes and one of her favorites is Itsy Bitsy Spider. I asked the 3 year old and she said sissy should be a spider.

I thought I would make something a little different. I made a sleep sack for the baby to swaddle her in. Then I covered the sack with spider webbing. I placed a giant spider crawling up her chest. It is a friendly spider giving her a big hug.

I covered a portable bassinet in orange fabric and placed the swaddle baby on the fabric.

Everyone loves the costume and the baby likes to be swaddled so she is comfortable.

Join in and write your own page! It's easy to do. How? Simply click here to return to Homemade Nursery Rhyme Costumes.