The Clever Hen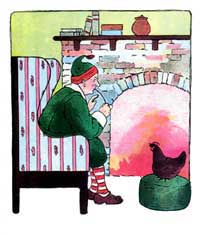 I had a little hen, the prettiest ever seen
She washed me the dishes and kept the kitchen clean
She went to the mill to fetch me some flour;
And always got home in less than an hour
She baked me my bread, she brewed me my ale,
She sat by the fire and told many a fine tale.
---
Homemade Chicken Costume - For a fun, fluffy, feathery chick for any age child!
---
Coloring Pages
Coloring pages are lots of fun for little ones.  They enjoy learning new skills and adding their own creativity to the page.  
Just click on a link below for a free coloring page that goes along with this rhyme.  Once the link has opened you may print as many as you like.
---
Return to Nursery Rhyme List for S and T from The Clever Hen