Traditional Girl's Gray Chevron & Hot Pink Diaper Cake
by Keesha
(Albuquerque, NM)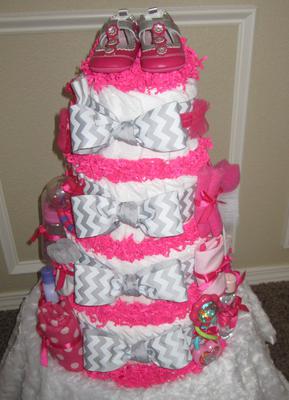 Front View

I decided to venture out and make my cousin a diaper cake to match her nursery, which is hot pink and gray chevron design.

I got on YouTube and watched a demo on the fan method, I purchased Pampers swaddler diapers size 1 (they have the least amount of print on them).

I purchased large and small ribbon, baby lotion, wash, powder, bibs, socks, shoes, bottle, bottle brush, rags, outfit, headband, clippers, receiving blankets and a few baby toys.

I picked out round pans from my kitchen and figured out what sizes I would need. Once I started fanning the diapers out in the pan it went fairly quick.

I put a rubber band on each tier before I tied a ribbon around them. I put a cardboard wrapping paper roll down the middle of each tier to hold the cake together. I tied a bow around each tier after I put the cake together (there is no glue needed).

I purchased a bag of pink crinkle paper to put on top of each tier to look like frosting. This is going to be my cousin's baby gift at her shower so I purchased nice items to put on the diaper cake (some from her registry).

I think this is a great way to give a beautiful gift that can be used. I hot glued smaller ribbon onto the larger ribbon that is tied around the cake, so I could attach all of the baby items.

I started with the smaller items on top and worked my way down.

I am also in charge of games at the shower, so I am going to have all of the guests guess how many diapers I used in the diaper cake....should be fun!

I ended up using over 100 diaper in the cake so it will be very useful for the mom to be when she is ready for size 1 diapers.

All of the diapers from the cake can be used so I would suggest buying good diapers so they will actually get used.

This is a very time consuming project, but so worth it! It makes a beautiful shower decoration that can be used as a game and any mom would appreciate it!