Six Little Mice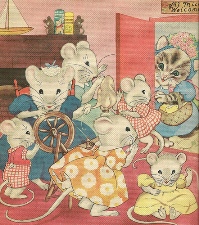 Six little mice sat down to spin,
Pussy passed by and she peeped in.
"What are you doing, my little men?"
"Weaving coats for gentlemen."
"Shall I come in and cut off your threads?"
"No, no, mistress pussy, you'd bite off our heads."
"Oh, no, I'll not; I'll help you to spin."
"That may be so,
But you don't come in!"
---
Coloring Pages
Coloring pages are lots of fun for little ones.  They enjoy learning new skills and adding their own creativity to the page.  
Just click on a link below for a free coloring page that goes along with this rhyme.  Once the link has opened you may print as many as you like.
Crazy Cat      Yawning Cat     Cartoon Mouse     Mouse
---
Return to Nursery Rhyme List for S and T from Six Little Mice