The Piper and His Cow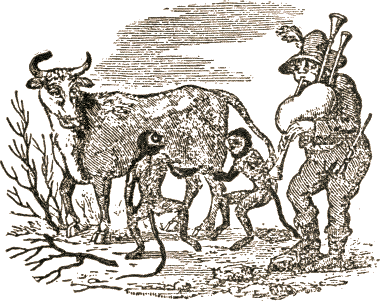 There was a piper had a cow,
And he had naught to give her.
He pulled out his pipes and played her a tune,
And bade the cow consider.
The cow considered very well,
And gave the piper a penny,
And bade him play the other tune,
"Corn Rigs Are Bonnie."
---
Coloring Pages
Coloring pages are lots of fun for little ones.  They enjoy learning new skills and adding their own creativity to the page.  
Just click on a link below for a free coloring page that goes along with this rhyme.  Once the link has opened you may print as many as you like.
---
Return to Nursery Rhyme List for S and T from The Piper and His Cow