I Love Little Pussy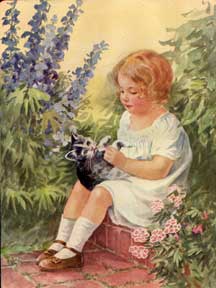 I love little pussy,
Her coat is so warm,
And if I don't hurt her
She'll do me no harm.
So I'll not pull her tail,
Nor drive her away,
But pussy and I
Very gently will play.
She shall sit by my side,
And I'll give her some food;
And pussy will love me
Because I am good.
---
Coloring Pages
Coloring pages are lots of fun for little ones.  They enjoy learning new skills and adding their own creativity to the page.  
Just click on a link below for a free coloring page that goes along with this rhyme.  Once the link has opened you may print as many as you like. 
---
Return to Nursery Rhyme List for G, H, I from I Love Little Pussy