History of Mother Goose
Mother Goose is a beloved image that encompasses a large number of authors of children's nursery rhymes, stories and songs.
The history of Mother Goose and how this image came to represent children's rhymes and stories can be traced back to France in 1650.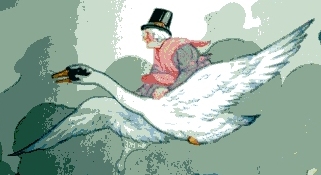 The term Mother Goose first appeared in a French book titled La Muse Historique with the line "Comme un conte de la Mere Oye", which translates to "Like a Mother Goose story".
The first book to actually title it's stories as Mother Goose appeared in 1697.
Charles Perrault's book of fairy tales, Tales From the Past With Morals had a front page illustration of an old woman reading a story to children.
Under the illustration appeared the subtitle Contes de ma mere l'oye orTales From My Mother Goose.
Then in 1760, John Newberry published several children's books, one of which was a collection of nursery rhymes titled, Mother Goose's Melody.
The name Mother Goose caught on and has been associated with hundred's of children's rhymes, riddles, songs and stories from many different authors.
Do you have a great game or craft that you do with nursery rhymes?
Children love to play as they learn! Whether that's clapping to the rhythym of the verse, acting out the characters, playing games or creating great artwork!

We would love to hear about games, arts and crafts, fingerplays, anything that you do with your special little one to make nursery rhymes a fun interactive learning activity.

We know our mom's and grandma's have great ways to entertain while teaching their children and grandchildren.

Please share with us those fun learning experiences.


Check out other fun activities from our visitors
Click below to see contributions from other visitors to this page...

Itsy Bitsy Spider Not rated yet
We use our fingers and hands when learning the twisting motion of hands and fingers to this song. We are also in a sense using sign language as in …
The Itsy Bitsy Spider Not rated yet
Fingerplay- The Itsy Bitsy Spider went up the water spout, (moving your fingers in a walking motion like climbing up) Down came the rain …
Mother Goose Day - what a fun way to celebrate children and nursery rhymes!