google.com, pub-0290649250408789, DIRECT, f08c47fec0942fa0
Down At The Station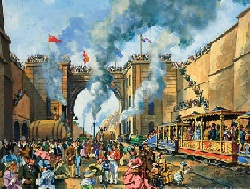 Down at the station,
Early in the morning,
See the little puffer-billies,
All in a row.
See the engine driver,
Pull his little lever,
Puff, puff, peep, peep,
Off we go!
Return to Nursery Rhyme List for C, D, E, and F from Down By The Station
Like us on Facebook! Tell your friends about us!
---
Do not miss the new stuff!
Sign up for our newsletter!