Betty Botter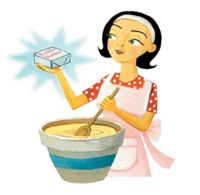 Betty Botter bought some butter,
But she said,"The butter's bitter.
If I put it in my batter,
It will make my batter bitter;
But a bit of better butter,
That would make my batter better."
So she bought a bit of butter
Better than her bitter butter,
And she put it in her batter
And the batter was not bitter.
So 'twas better Betty Botter
Bought a bit of better butter.
---
Coloring Pages
Coloring pages are lots of fun for little ones.  They enjoy learning new skills and adding their own creativity to the page.  
Just click on a link below for a free coloring page that goes along with this rhyme.  Once the link has opened you may print as many as you like. 
---
Return to Nursery Rhyme List for A and B from Betty Botter