This Baby's Ready for a Nap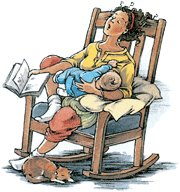 This baby's ready for a nap,
Lay her down in her mother's lap,
Cover her up so she won't peep,
Rock her till she's fast asleep.
---
Coloring Pages
Coloring pages are lots of fun for little ones.  They enjoy learning new skills and adding their own creativity to the page.  
Just click on a link below for a free coloring page that goes along with this rhyme.  Once the link has opened you may print as many as you like.
---
Return to Nursery Rhyme List for S and T from This Baby's Ready for a Nap