Babys Closet Diaper Cake
by Jeniffer Rosado
(New Jersey )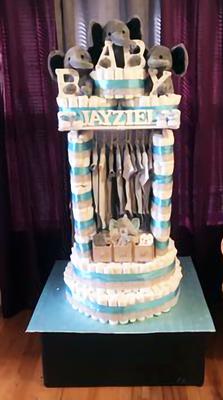 Front of the "baby closet"
This diaper cake is a baby's closet come to life! I made it for my coworkers baby shower. It was an elephant themed baby shower. I used all the colors that were used in her theme.

Over 450 diapers were used to make this piece. Started off by hand rolling all the diapers (newborn size) one by one and individually wrapping them with small rubber bands.

I then glued a cardboard stick right in the middle of the cardboard floor base and started making my 2 bottom tiers.

I got 2 cardboard rectangles and placed them to the right and left side of the 2nd tier. Then started placing diapers along side and tying them with yarn.

Decoration with ribbons started with attention to detail

I then placed a wooden stick in between the 2 diaper walls to create the closet rod and hung up some baby clothes I bought.

I then created 3 little diaper bassinets and placed them on top of a cardboard square. That was then placed on the diaper wall as the closet ceiling. I bought 3 baby elephant stuffed animals and placed them in the bassinet.

I bought 2 led cords and placed them around the diaper cake to make it light up and come to life

It was a great hit as a centerpiece at my coworkers babyshower!
Join in and write your own page! It's easy to do. How? Simply click here to return to Diaper Cakes.