Baby Jewel Diaper Cake
by Eirene
(Virginia Beach, VA)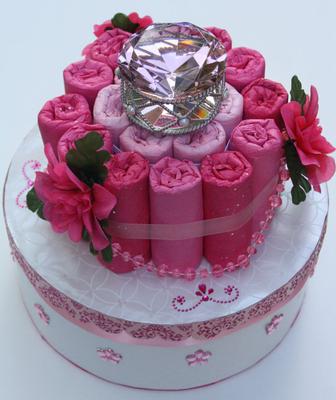 I made a circular box with cardboard and foam core board and wrapped it with some wrapping paper that I already had. There are nursery items inside the box.

I decorated the wrapped box with some jewel embellishments, a pink ribbon, and glittered card stock.

For the diapers I wrapped them with pink tissue paper first and then rolled them- 19 total. I used two different kinds of pink to tie in with the box that I made.

Instead of using a center ring, I started with one diaper then arranged 6 diapers around it, which I tied together with a ribbon. Then 12 more around them and tied together again with some more ribbon.

I used a play necklace from the Dollar Store and some florals to finish the design.

I found the center jewel at a gift shop and that is what actually inspired this creation. It is a paper weight. One of the things that I like, is to try to add to my baby shower gifts, something that the Mom can use since she is equally as special at the baby.