Homemade Mary Quite Contrary Costume
This homemade Mary Quite Contrary Costume is easy to assemble.
Here's what you'll need:
Apron with large pockets in front
Small wicker basket with carrying handle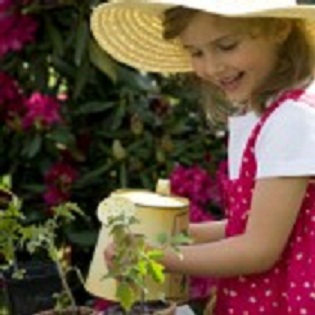 Dress Miss Mary Quite contrary in whatever clothes she is comfortable in, can be a dress to shorts.
Tie the apron on Miss Mary and fill the pockets with the gardening tools.
Place various silk flowers in the wicker basket.
If you don't have a basket of flowers available, substitute a small watering can.
Have your darling Mary put on the boots and sun hat.
Now she only needs to carry her basket of flowers from her garden.
 Need a little help with your costume?  Perhaps you need a wig, a hat, a  tiara  or a pair of shoes.......  we've got you covered with our
You'll find accessories to complement your homemade costume!
No time to create your own costume?  
 We have a fabulous selection of costumes for the entire family.  Our  collection is full of fun animal characters from the farm to the jungle.
 You'll find friendly helpers like firemen, doctors and policemen, even  the  bakerman!  
 How about beautiful butterflies or adorable ladybugs?  We have them  too!
 Simply click on the link to the shop to find the perfect costume or  costume  accessory.
Have fun shopping!
Home

›
Costumes
› Mary Quite Contrary Costume