Princess Costume
Putting together a homemade princess costume is fairly easy.  My granddaughter decided she wanted to be a princess this year.
I had already found a little Disney princess crown on clearance at the local Walmart that I had been saving to give her for a special occasion.
So we had our start.  We then went to the local thrift stores where we found a little dancer's dress.  Perfect with it's blue and white netted skirt with tiny white ribbons tied in bows.
We also found a pair of white tights to go with the dress.
I then found a little shrug sweater at Target that was perfect for keeping her warm on a cool evening of Trick or Treating.
I added an old rhinestone brooch that had been my mother's to her sweater to give it some sparkle.
A little blush, eye shadow and lip gloss and she was ready for the ball!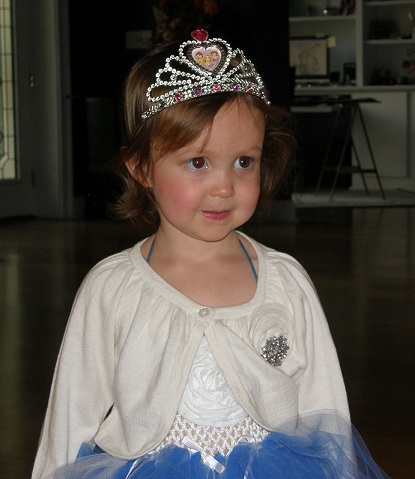 Return to Doodle Doodle Doo
Return to I Had a Little Nut Tree
Home

›
Nursery Rhyme Costumes
› Princess Costume
 Need a little help with your costume?  Perhaps you need a wig, a hat, a  tiara  or a pair of shoes.......  we've got you covered with our
You'll find accessories to complement your homemade costume!
No time to create your own costume?  
 We have a fabulous selection of costumes for the entire family.  Our  collection is full of fun animal characters from the farm to the jungle.
 You'll find friendly helpers like firemen, doctors and policemen, even  the  bakerman!  
 How about beautiful butterflies or adorable ladybugs?  We have them  too!
 Simply click on the link to the shop to find the perfect costume or  costume  accessory.
Have fun shopping!