Homemade Scarecrow Costume
Homemade scarecrow costumes are easy to make from items around the house.
Children of all ages can be turned into an adorable scarecrow with very little effort.
Your scarecrow costumes can be as elaborate or as simple as you want to make them.
To get started, you will need all or some of the following items:
Denim jeans or denim/corderoy overalls
Yellow, brown, tan felt cut into strips
Safety pins or fabric glue
Plastic grocery bags or cotton batting
Dress your little one in the above items. Roll cuffs up on sleeves and cuffs of jeans or overalls.
Leave the shirt tail hanging out in some places and tucked in others.
Use the grocery bags or batting to "stuff" the shirt.
Tie bandana around their neck or the brim of the straw hat.
Decorate the straw hat with fabric, bandanas, oversized pins or other fun items.
Glue or safety pin pieces of fabric on the jeans or elbows of the shirt for patches.
Add safety pins to the suspenders if using them.
Tie the twine or rope like a belt.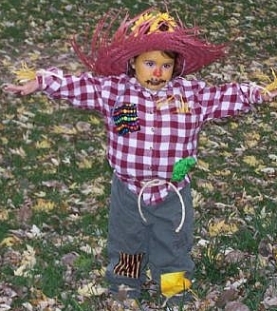 Use make up or face paint to give your little one big smiling lips, rosy cheeks, and throw in a few freckles.
If you have straw, dried grass or hay, tuck small bunches up their rolled sleeves and cuffed pant legs.
If you don't have straw, cut pieces of yellow or brown felt into long strips and pin or glue to the insides of cuffs to replicate straw.
There you have the most adorable scarecrow on the farm!
 Need a little help with your costume?  Perhaps you need a wig, a hat, a  tiara  or a pair of shoes.......  we've got you covered with our
You'll find accessories to complement your homemade costume!
No time to create your own costume?  
 We have a fabulous selection of costumes for the entire family.  Our  collection is full of fun animal characters from the farm to the jungle.
 You'll find friendly helpers like firemen, doctors and policemen, even  the  bakerman!  
 How about beautiful butterflies or adorable ladybugs?  We have them  too!
 Simply click on the link to the shop to find the perfect costume or  costume  accessory.
Have fun shopping!
Return to Dingly Dangly Scarecrow

Return to Dingly Dangly Scarecrow Activity
Home

›
Costumes
› Scarecrow Costume