Homemade Jack and Jill Costume
This homemade Jack and Jill costume is way too easy to believe.
Simply dress your little one in play clothes that are comfortable.
From there you will need the following:
Bandaids or gauze and tape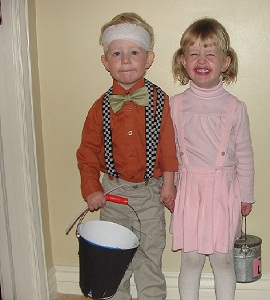 Once dressed, simply place a bandage on their forehead for their 'broken crown' and have them carry a pail.
You could even have Jack actually carry a broken crown in his hand.
What could be easier for your little Jack or Jill!
Share your homemade nursery rhyme costume and enter our costume contest!
Dressing up in costumes is so much fun! Everyone has a great time pretending to be someone or something else.

If you have created a great nursery rhyme costume, please share it with us!

All that creative energy deserves lots of praise and attention! Share your costume with us and be automatically entered in our homemade nursery rhyme costume contest.

Simply fill in our entry form telling us about your one of a kind creation, upload a few pictures and have a chance to win cash!

Not only do you win cash, you get to be on your very own web page on our site. So keep those creative juices flowing and send us your write up and pictures today!


Need a little help with your costume?  Perhaps you need a wig, a hat, a tiara or a pair of shoes.......  we've got you covered with our
You'll find accessories to complement your homemade costume!
No time to create your own costume?  
We have a fabulous selection of costumes for the entire family.  Our collection is full of fun animal characters from the farm to the jungle.
You'll find friendly helpers like firemen, doctors and policemen, even the bakerman!  
How about beautiful butterflies or adorable ladybugs?  We have them too!
Simply click on the link to the shop to find the perfect costume or costume accessory.
Have fun shopping!
Return to Jack and Jill from Homemade Jack or Jill Costume
Home

›
Costumes
› Jack & Jill Costumes