Homemade Farmer Costume
Whether you want Old MacDonald or the Farmer in the Dell, a homemade farmer costume is easy as pie!

Here's some items you will need:
Stuffed farm animals like a cow, duck, rooster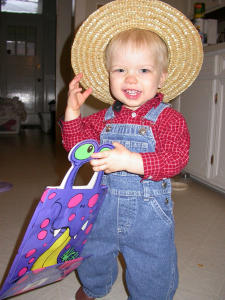 Dress your child in the shirt overalls and boots.
Roll up the sleeves on the shirt and the cuffs on the overalls.
Place the straw hat on their head.
Tie the bandana around their neck.
For the final touch, have them carry a toy hoe, rake or a stuffed farm animal!
There you have it, your very own Farmer in the Dell!
Check out our farmer related verses and activities!
Here Sits Farmer Giles Activity
Home

›
Costumes
› Farmer Costume
 Need a little help with your costume?  Perhaps you need a wig, a hat, a  tiara  or a pair of shoes.......  we've got you covered with our
You'll find accessories to complement your homemade costume!
No time to create your own costume?  
 We have a fabulous selection of costumes for the entire family.  Our  collection is full of fun animal characters from the farm to the jungle.
 You'll find friendly helpers like firemen, doctors and policemen, even  the  bakerman!  
 How about beautiful butterflies or adorable ladybugs?  We have them  too!
 Simply click on the link to the shop to find the perfect costume or  costume  accessory.
Have fun shopping!