Nursery Rhyme Costumes
Do you remember playing dress up as a little kid?
I sure do!
I could play all by myself or with a friend and become anyone or anything I wanted to.
I would imagine being in a all sorts of wonderful places from around the world with the most magnificent clothes and shoes.  
I would be a famous actress or royalty, even the best mom ever.
Playing dress up was one of my favorite activities.  
I loved collecting all kinds of items to create my most wonderful costumes.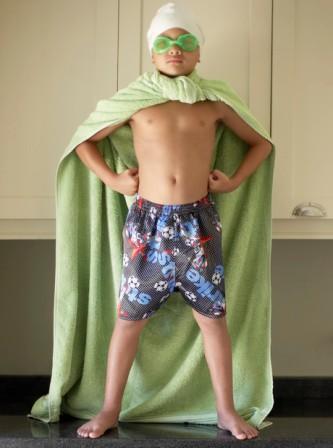 Children's imaginations can create just about anything out of virtually nothing.
A vest can become a coat of armor,
a towel or small blanket can be a cape,
a wrapping paper cardboard tube is magically transformed into a sword or magic wand,
leftover fabric can become a royal cloak!
Play acting is a wonderful way to stimulate your child's imagination.
Giving them the opportunity to add homemade costumes to their playtime, makes playtime even more fun!
Incorporating nursery rhymes and those fun characters into their play allows for more learning in a fun fashion.
So why not give them nursery rhyme themed costumes to allow them to act out the rhymes?
You probably will find them taking it even further by expanding on them with their new characters.
Nursery rhyme costumes can easily be homemade with a bit of creativity.
The costumes for little ones are heavily dependent on props. This makes it easy to pull together a simple and adorable costume.
You can dress them in clothing they already own and just add a little make up or face paint and a prop or two.
And there you have it, a Butcher, a Baker, a Candlestick Maker, all with just a few props.
Baby and toddler nursery rhyme costumes can also be easily purchased online.  One great site with fun and fabulous children's costumes is 
Valerie Tabor Smith Costumes--Sold Exclusively at Costume Craze!
Either way, costumes go a long way to getting those creative juices and little imaginations churning like crazy.
Nursery rhyme costumes can be used for every day play, a preschool activity, a fun birthday party activity or theme and of course, for Halloween fun!
There are so many nursery rhyme characters that the ideas can be limitless.

They can be all sorts of animals from kittens and lambs to bears and lions.
Your little one can be a king, queen, princess or a knight, a farmer, sailor, old man or shoemaker.
A great way to get started is to start collecting all sorts of items that children can use to put together their own character costumes.
On their own or with a little help from you, your child can have a great homemade nursery rhyme costume.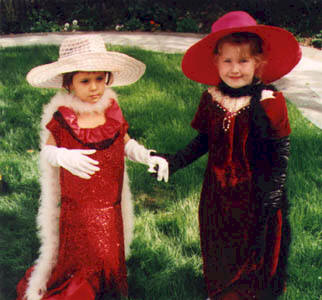 We have a few suggestions here, but would love to hear about your fabulously fun homemade costumes..
Face Paint - face paint recipes from items in your kitchen!
Baker's or Muffin Man Costume - This costume works for several great nursery rhymes.
Bonny Lass - perfect for that special little girl!
Chicken or Rooster Costume - the most adorable little chick!
Farmer Costume - so easy to have your own Old MacDonald!
Humpty Dumpty Costume - Easy for your little egg!
Jack or Jill Costumes - Great idea if you have both a boy and a girl to dress up.
Ladybug Costume - So easy to make this cute as a bug costume.
Lamb Costume - Bo Peep's should've been this cute!
Mary's Little Lamb Costume - Mary has lambs too!
Little Bo Peep Costume - A shepherd's hook and a lamb complete this costume.
Little Boy Blue Costume - This costume can be pulled together virtually from your little one's closet.
Little Miss Muffet Costume - Add a spider, bowl and spoon for Miss Muffet.
Mary Had A Little Lamb Costume - Just a few props and you have the cutest Mary.
Mary Quite Contrary Costume - so easy to let her garden grow!
Peter PumpkinEater Costume - get Peter and his wife!
Princess Costume - pretty enough to go to the ball!
Scarecrow Costume - Easy to make scarecrow costumes from items around the house!
Spider Costume - Here's an easy to make companion for Little Miss Muffet.
Wee Willie Winkie Costume - an easy and adorable costume.
Zebra Costume - counting zebra stripes!
Home
› Nursery Rhyme Costumes
Share your homemade nursery rhyme costume and enter our costume contest!
Dressing up in costumes is so much fun! Everyone has a great time pretending to be someone or something else.

If you have created a great nursery rhyme costume, please share it with us!

All that creative energy deserves lots of praise and attention! Share your costume with us and be automatically entered in our homemade nursery rhyme costume contest.

Simply fill in our entry form telling us about your one of a kind creation, upload a few pictures and have a chance to win cash!

Not only do you win cash, you get to be on your very own web page on our site. So keep those creative juices flowing and send us your write up and pictures today!


Check out our other homemade costume contributions....
Click below to see contributions from other visitors to this page...