Homemade Miss Muffet Costume

A few simple props and a frilly dress are all you need to put this homemade Miss Muffet costume together.
Just a few things you'll need:
Plastic or furry toy spider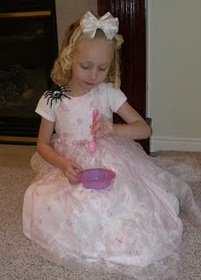 Dress your little girl up in the frilliest little dress she owns.
Pin the spider to the skirt or shoulder of the dress.
If you have a bonnet or hat, have her wear it.
Have her carry the bowl and spoon for her curds and whey.
 Need a little help with your costume?  Perhaps you need a wig, a hat, a  tiara  or a pair of shoes.......  we've got you covered with our
You'll find accessories to complement your homemade costume!
No time to create your own costume?  
 We have a fabulous selection of costumes for the entire family.  Our  collection is full of fun animal characters from the farm to the jungle.
 You'll find friendly helpers like firemen, doctors and policemen, even  the  bakerman!  
 How about beautiful butterflies or adorable ladybugs?  We have them  too!
 Simply click on the link to the shop to find the perfect costume or  costume  accessory.
Have fun shopping!
Home

›
Costumes
› Miss Muffett Costume